Airy Blog, Louise Blog
10 Ways to Make Camp Successful for You & Your Child
With over 90 years of experience, Camps Airy and Louise know what it takes to have a successful summer at camp! This week we had meetings in Baltimore and Rockville to review some of our recommendations and tips with new families. Adapted from Chris Thurber and Jon Malinowski's The Summer Camp Handbook, we presented the top 10 ways to prepare your new camper for his/her summer at Camps Airy and Louise.
1. Positive thoughts and expressions will lead to positive experiences.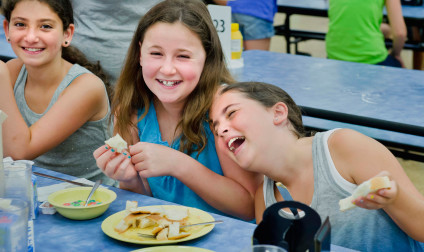 You may be a little nervous about sending your child to camp. This is totally normal! However, we encourage you to avoid sharing these thoughts with your child and instead reach out to our office so we can discuss your concerns together.
Also, avoid bargaining with your camper. If you say to your camper "if you don't like it, I'll come pick you up," it will likely become a self-fulfilling prophecy! We work with all campers to have successful summers – but it is very difficult to work with a camper who continues to challenge us with – "but my parents said they would pick me up."
2. Learn more about Camps Airy & Louise.
You're doing great! Just by reading through our blog, you're a step ahead of the game. We try to stuff our website with important information for you, as well as the shiny, exciting content for your camper. Be sure to read through the Parent Guide. You'll find valuable information to prepare you for before camp, during camp, and after camp.
3. Talk with camp parents and camp staff.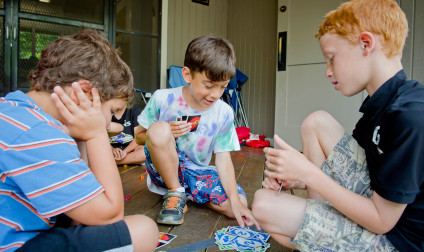 Ask your friends and family to see if anyone has experience with Camps Airy & Louise. With a rich history of over 90 years, there's a good chance the person next to you at a Bar Mitzvah or the family beside you at a local restaurant is an alumnus or current family of camp. Are you located outside of the Maryland, DC, Pennsylvania, Northern Virginia region? We can contact families that are local to you and ask them to reach out. It's always helpful to hear advice from a seasoned camp family.
4. Prepare your child for camp life.
Has your camper ever slept out before? Plan sleepovers at friends' houses (not just grandparents') before camp begins to prepare your camper for being away from you during nightly routines. This is typically when home-missing hits the hardest. Perhaps your child needs to sing a song to fall asleep, or maybe even retrace the entire day in his/her head until he/she falls asleep. Creating a backup plan will give your child tools.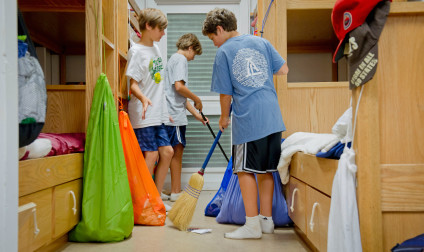 Also, and this is mostly for our girls, encourage your child to take shorter showers- keeping it less than 5 minutes long. It's doable- trust us! Make it a game – set a kitchen timer and every few days cut the timer down by a minute.
If you have any concerns about how your camper will adjust to camp life, call us. We can give you more tips to make the transition easier.
5. Stay connected during camp.
There are many ways to stay connected during camp so that you will feel like you're actually here with us! First, be sure to follow us on Facebook, Twitter (Airy | Louise) and/or Instagram (Airy | Louise). We update daily. Second, both camps post hundreds of photos daily on the CampInTouch photo book. Third, you can watch our videos from Camp Airy's Vimeo and Camp Louise's Vimeo that feature camp-wide events and fun videos that campers make during activity periods. Lastly, follow the Camp Airy Director's Blog or the Camp Louise Director's Blog for a general overview of each day.
6. Write often.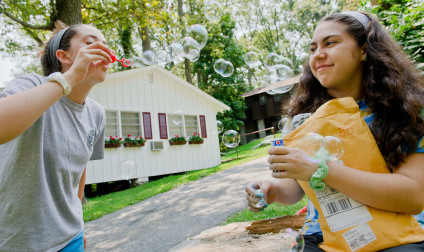 There is nothing greater than for your child to receive a handwritten letter from home. Try to write letters several times a week. Encourage grandparents and siblings to do the same. We suggest keeping them bland – what you had for dinner, a story about your trip to Target, watching TV, entertainment news, etc. Hearing about your Hawaiian vacation is not a great choice in your letter! Also… please – never deliver bad news through a letter. Call us at camp, and together, we will create a strategy if the news truly must be shared while your child is at camp.
A quicker way to contact your child is through CampStamps, stationary purchased through your CampInTouch account that allows your child to write a letter and deposit for scanning – which then will show up in your CampInTouch account for viewing.
7. Complete all your paperwork.
Check-in on Opening Day will go smoothly if your paperwork is completed on time!
To check the status of your forms, log into your CampInTouch account, or contact us at the office.
8. Pack well.
Pack as much as you can in 2 duffel bags. On Opening Day, you will drop off those bags to be shuttled to the bunk. You may bring additional bags, but you'll need to carry those to the bunk yourself. Use the Camp Airy Packing List and Camp Louise Packing List as guidelines when packing.
Want more tips & tricks? Go shopping with Stacy!
9. Stay busy, take care of yourself, and enjoy the time while your child is at camp.
That's right! Camp is not just a time for your child to grow. It's an opportunity for you to finally catch up on sleep, house chores or even take a vacation. You deserve a break from the real world, too. Just remember, if you leave the country or take a vacation, please make sure the emergency contacts listed are willing and able to pick up your child in case the need arises.
10. Be prepared for your child to make friends for life!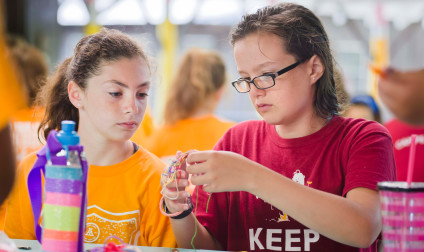 We are thrilled to welcome your entire family into the Airy & Louise community. You'll find that the friends made in the weeks while she/he is at camp will be the same people at bar/bat mitzvahs, weddings and beyond! You made the best choice for your children when you decided to give them the amazing opportunity to come and experience camp!
Check out the Parent Guide for more information on these topics and more.
Visit camp with the whole family at our Open House.  Meet the Director Sessions are at 11AM and 1PM, so expect to spent roughly 2 hours exploring camp and getting to know our staff and families. There is time for visits to both camps if you have campers at both Airy and Louise – please arrive at the first camp at 10 AM so we can ensure you get tours and time for the Meet the Director Sessions at both Airy and Louise. Can't wait to see you there!
[line]
Print the Top 10 Ways to Help Make Camp Successful for You & Your Child.