Airy Blog, Louise Blog
2018 Awesome Fund Donor List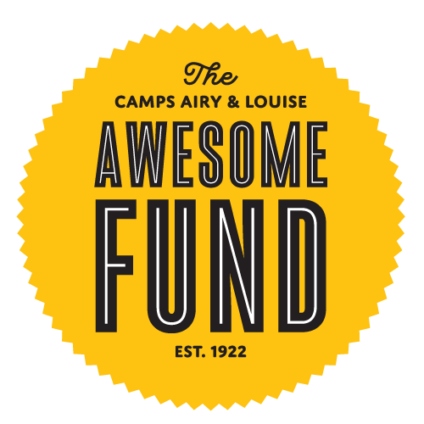 The Camps Airy & Louise Awesome Fund was created in November 2016 as our way to bring the community together to raise dollars to support our campership program. This summer, we provided nearly $425,000 in camper support, thanks to a generous donation from The Straus Foundation of $275,000.
THANK YOU to the more than 515 donors who contributed to the Awesome Fund. This list represents donations made between November 1, 2017 – October 31, 2018.
Questions? Call Lauren Perlin at 410-466-9010 or Lauren@airylouise.org.
[one-third-first]
Tyler Abell
Alexander Abraham
Stephen Abraham
Heather Abramowitz
Andrea Abrams
Mr. and Mrs. John Acker
Advance Business Systems
Advance Specialties
Sean, Sharon, and Sammi Agranov
Mindy Aguirre
Gary and Brooke Aiken
Nancy Aiken
The Akil Family
Dan Alpert
Max Alpert
Matthew Anderson
Anonymous (17)
Deborah Apple
Ted and Sharon Apple
Julian Arnheim
Marji and Steven Arnheim
Bryn Arnold
Maya Arnold
Becky Sager Ashery
Shay Ashkenazi
Arthur Auerbach
Mr. and Mrs. Scott Austin
Phil Austin
Marcie, Howie, and Jordan Axelrod
Kim Bader
Fay & Michael Baker
Susan Baker
Jillian Balk
Hannah Baron
The Barron Family
Alivia Barton
Jaden Baum
The Bawden Family
Dr. and Mrs. Brian S. Bayly
Bill Beavan
Lizzie Becker
Hilary and Michael Becker
Morgan Becker
Ellen Beckwith
Michelle Poretz Bekenstein
Carolyn Belgrad
Josh and Amy Belkin
Dr. and Mrs. Robert Benjamin
Jillian Benjoar
Howard and Melissa Benowitz
Alli Berger
Jessica Berger
Mr. Daniel Lavan and Ms. Deborah Berger
Brian and Heidi (Flax) Berghuis
Joshua Berkowitz
Sara Garon Berl
Alicia and Neil Berlin
Sherry and Steve Berlin
Melissa and Jeffrey Berman
Danielle Berman
Jonnice Legum Berns
Mr. and Mrs. Daniel Bilow
William J. Binder Family Trust
Daniel Birenbaum ('98 CIT)
Karen Amatangelo-Block and Jon Block
Robert and Joan Block
Mr. and Mrs. Rodney Blockston
Sophie Bloom
Eileen Bloom
Eric and Bets Bloom
Mr. and Mrs. Jeff Blum
Marc & Audrey Blumberg
Sharon Mackubin Blumberg
Art Blumberg
Marc Blumberg
Jamie Blume
Zachary Bogorad
Zach Book
Jason "Grasshopper" Bordenick
Yardley Borten
Xandra Bouray
Paula Bragg
Dr. and Mrs. Dennis Brave
April Breslaw
The Brickman Family
Sari Britz
Ali Brodsky
Liz and Art Brodsky
Judith Broida
Keith Brooks
Madelyn Brown
Jeffrey Brownstein
Lauren Brownstein
Melissa and Andy Brownstein and Family
Nancy Brundle
Ralph Brunn
Alan and Nancy Bubes
Lee and Ellen Burstyn
Isabel Byrne
Joan and Danny Cagan
Camp Airy 2001 CITs
Camp Airy 2013 CITs
Camp Airy 2014 CITs
Camp Airy Order of The Leaf
Camp Airy Order of the Leaf, Alumni Chapter
Camp Louise Circle
Bradie Campana
Mr. and Mrs. Evan Camps
Bradd and Lauren Caplan
Jared Caplan
Sylvia and Ron Carmel
Eric J. Carr, MD
Ilene, David, Jonathan, Robin, Joanna, and Benjy Chait
Mr. and Mrs. Ross Charkatz
The Chelst Family
Jessica Chelst
Mr. and Mrs. Alexander Chizhik
Jimmie Choate
Adam and Sarah Clay
Fran and Bob Clay
Amanda & Andrew Coelho
Gillian Cohen
Andrew Cohen
Mr. and Mrs. Andrew Cohen
Andrew Cohen and Nicola Goren
Coby Cohen
Cobi Edelson Cohen
Fern and Sam Cohen
Joshua Cohen
Kate Babus Cohen
Marjorie, Jamie, Skylar, and Zoe Cohen
Matt and Beth Cohen
Maxine A. Cohen & Myron Oppenheimer
Deborah and Walter Cohn
Joan Sundheim Cohn
Mr. and Mrs. Jeremy Cohn
Commission on Presidential Debates
Jacob Cooper
Julie Cooper
Lee Coplan
Brad Coppel
Bernice Cornelissen
Olivia Cullen
Abigail Cutler
Larry & Laurie Cynkin
Jordyn Davidson
Stefani and Frank Davies
Samantha Deane
Robin, John, Julie, and Laura Denick
Mark Derner
Mr. and Mrs. Greg Derrick
The Diamond Family
Sammy Dickstein
Mr. and Mrs. Bruce Dincin
Mr. and Mrs. Stephen Downs
Nikki Downs
Marilyn and Barry Dubin
Matt & Elaine Dunie
Liza Dupler
Stuart Dvorkin and Deborah Koplen
Mr. and Mrs. Michael Dye
Lucy Eastaff
Binnie Edelson
Joseph Egert
Jenna Eggert
Jordan Eidelkind
Dr. Philip Eisenberg
Marji Epstein
Sandra and Andrew Eskin
Jill Eskin-Smith and Chris Smith
The Esterson Family
Shannon Evans
Wilma Ezekowitz and Arthur Rosenfield
Mr. and Mrs. Joel Feinleib
Wendy and Brian Feldman
Renee and Roger Fendrich
Isabella Ferber
Melvin & Betty Fine Foundation
Mr. and Mrs. Robert Fine, Mr. and Mrs. Mark Fine, Mr. Joshua Fine
Mark, Kim (Hyatt), Max, and Mallory Fine
Elana and Sandy Fine
Josh Fine
Neal and Sharon Fine
Finksburg Pharmacy
Sarah Fischbein
Jill Feinberg and David Fishkin
Meg and Samuel Flax
Josh and Jamie Forman
Foundation for Jewish Camp
Dr. David and Ellen Framm
Dr. and Mrs. Daniel Framm
The Myra and Daniel Framm Charitable Gift Fund
Jordan Frank '10
Celia and Hal Frankford
Pam and Rick Frankle
Joyce and Richard Franklin
Stacy, Dwayne, and Logan Frazier
Margo Freedberg
Stephen Freedman
Mr. and Mrs. Adam Friedman
Mr. and Mrs. Gary Friedman
Mark Friedman
Robert and Pam Friedman
Ethan Fruchtman
Sloane Gallagher
The Gelfeld Family
Melissa and Casey Gendason
The Geringer Family
Jonathan Gerstl and Amy Bram
Ralph and Erica Gerson
[/one-third-first]
[one-third]
Stephanie and David Gertler
Manny and Karen Gerton
Shai Gilad
Bess Needel Gilden
Giving Tree Associates
Angela Glass
Mr. and Mrs. Braeme Glaun
Marci Gleicher
Mr. and Mrs. Stuart Glickman
Melanie Gnatt
Henri Goettel
Mr. and Mrs. Eric Gold
Mitch Gold
Justin Goldberg
Paula Goldman
The Goldscher Family
Eric Goldscher
Kate Goldsmith
Anne Silberman Golfer
Shayna Golfer
The Goltz Family
Dr. Joel Goodman and Sally Ann Lentz
The Goozman Family
Stephanie and Ben Gordon
Allyson, Jason, Jack, and Harris Gordon
Seth I. Gordon
Ryan Gorinson
Aaron Gorman
Jay Gorman
Jonathan Grant
Benji Grausz
Mr. and Mrs. David Green
Alyssa Green
Hannah Green
Toni, Jake, and Miriam Greenberg
Mike Greenberg
Annette Greene
The Greenwald Family Tzedakah Fund
Lois Grimstead
Jake Gross
Benjamin and Natalie Grossman
Mr. and Ms. Eric Grossman
Gerry Gruber
Evelyn Gruen
Faith Goldberg Hailparn
Mr. and Mrs. Richard Hamburg
The Hammerman Family
Jade Harding
Mr. and Mrs. Jim Harper
Craig Harvey
Jackie and Alex Heckman
Todd Heine – 98 CITs
Alice Heller
Melissa Heller and Ryan Heller
Alex Henoch
Sonia Herson
Erin Hill
Sarah Hiller
Elana Hoffman, Ben and Dalia Kintisch
Samantha Holtz
Emily Hoponick
Laura Hosid
Caitlin Huber
Andrew and Jessica Hughes
Hunting Creek Outfitters, Inc.
Jillian Hurwitz
Jean & Barrie Hurwitz
Noa Hutnik
Mr. and Mrs. Philip Hyder
Mr. and Mrs. Eric Hyman
Brian Imburg
Justin Israel
Michael and Lisa Jablonover
Ben Jablonover
Maryn Jacobs
Hallie Jaffe
Johns Hopkins Medicine Marketing and Communications
Joint Retirement Board of Conservative Judaism
Dominic Jones
Casey Kahalas
Amy Kahn
Marvin and Madeleine Kalb
The Kamenetz Family
Mr. and Mrs. Scott Kamholz
Edward H. Kaplan
Marsha and Alan Kaplan
Joshua and Lindsay Karp
Ryan Karten
The Kassimir Family
Marisa Kassimir
Evan Katz
Larry Katz
Liat Katz
Rona and Yossi Katz
Sam Katzker
Karl Kaufman
Zach Kaufman
Mr. and Mrs. Erik Kaustel
Jenny Kay
Maggy Kay
Stephanie Kay
Terry and Darlene Keighley
The Keiser Family
Mr. and Mrs. Owen Kendler
Lucia and Boris Kerzner
Mr. and Mrs. Jeffrey Kessman
Denise Khodab
Paxton Kieley
Mr. and Mr. Donald Kirson
Seth Kleiner
Robyn Kleiner-Vilgos
Norman and Barbara Knopf
Robert and Arlene Kogod Family Foundation
Elissa and Matt Kohel
Ben Kohn
Susan and Bill Kolodner
Anna Koozmin
Liz and Rod Koozmin
Calvin Kopstein
Mr. and Mrs. Ben Koshar
Lois Kraus
Adrienne and Bill Krause
Rosalie Krause Memorial Endowment Fund
Linda and Bob Krauss
Lawrence R. Kravitz
The Kreshtool Family
Julie Kromash
Harriet, Adam, Abe, and Jacob Kuhn
Aparna Kumar
Roz Kurman
Mr. and Mrs. Kurtzig
Robert and Laura Laibowitz
Floor Langenveld
Mr. and Mrs. Jeffrey Lasko
The Lasser Family
Amy Lawrence
Rachel Lebedinsky
Mr. and Mrs. Andrew Lederman
Irina Lessne
Meredith Levene
Brooke Levenson
Gloria Levin
Lesley Levin
Gail Levine
Matt Levine
Paula Pascal Levine
Carole-Ann and Brahm Levine
Erica Levinson
Kelsey Levitt
Susan and Stephan Levy
Jacob Levy
Robyn Levy
Stevan Levy
Jon Lewin
Mr. and Mrs. Mathew Lewis
Theodore and Melissa Lieber
Cynthia Lifson
Ryan Lilienfield
Priscilla Lindenauer
Joey & Johanna Liner
Mr. and Mrs. Arkady Linshitz
Clare Littlemore
Richard Loebl
Isobel Lowe
Leonard Lowy
Mr. and Mrs. David Lubitz
Ivan and Mindi Lutwin
Diana Lynn
Mr. and Mrs. Paul Mackie
Rebecca Maclaurin
Evan Madow
Tyler Malin
Adam and Staci Mandelberg
Dr. Arnie Mann
Phyllis Marcus
Jennie Margolis
Seth & Sarah Marion
Dr. and Mrs. Jonathan Matz
Erin Maynard-Connor
Machailla McCabe
Niamh McCann
Bethany McGarvey
Laura McSorley
Mitch and Marnie Metzman
Mr. and Mrs. Steve Meyerson
Abraham David Miller
Laurie Miller
Rachel Miller
George Mirmelstein
Jan Mirmelstein
Joel Mirmelstein and Family
Mrs. and Mr. Ira Mirsky
The Moncarz Family
Adrien and Annette Morchower
Howard Morse and Laura Loeb
Michaella Mulhern
Jill D Myers
Maxwell Mzhen
National Council on Aging
Joshua Nevells
Emily and Annie Newmark
Len and Bonnie Novick
NROCKS Outdoor Adventures
Cassidy Oberfeld
Tara O'Neill
Rachel and Mark Opper
Ronald and Eileen Orleans
Eric & Jennifer Orman
Anton Orr
Ellen Osher
Ms. Carol Packer and Mr. Michael Snyder
Paley, Rothman, Goldstein, Rosenberg, Eig & Cooper
Mark and Doreen Paster
Tessa Patterson
Mr. and Mrs. Brian Paul
[/one-third]
[one-third]
Reesa and Addy Pearlman
Dr. Peggy Pearlstein
The Pease Family
Gram Judy and Grampa Zeke Pease
Laura Pelloquin
Melissa Perlin
Ryan and Lauren Perlin
Amy Pernick
Robert and Lillian Philipson Foundation
Selma B. Philipson
Katharine Pirotte
Marcy Plimack
Ryann Plotkin
Daniel and Rachel Plotnick
The Pollokoff Family
Jacob Pollokoff
Marilyn Polon
Pearl Jean Pomerantz Camp Louise Campership Fund
Brayden Preston
Mr. Alan Privot
Alice Pugh
Mr. and Mrs. Doug Putchat
Pyne 1998 CIT's
Mr. and Mrs. Andrew Rabb
Josh, Yael, Hannah, and Shai Rabin
Ami, Evan, Emma, and Ava Rabinowitz
Diana, Scott, Rachel, and Joshua Rabinowitz
The Rathmell Family
Stan Ratner
Jacob Recht
Dori, Steve, and Zach Reissman
Mike "Tuchas" Reiter
Lucas Reynolds
Maddie Elkan Respler
Jessie Reter-Choate
Beth and Steve Richman
Mr. and Mrs. David Richter
Marilyn and Alan Riffkin
Cody Riker
Jessica Riker
Jan Rivitz
Dr. Gabriel Robbins
Catherine Rochester
Pam and Marty Rochlin
David and Margie Rochlin
Allison Rogalski
Gary Rogers
The Rollins Family
Gail Rosen
Mr. and Mrs. Matthew Rosenberg
Lindsey Rosenbloom
Henry and Nadine Rosendale
Liset Rosenkamp
Betsy Rosenthal
Jill Rosenthal
Jeremy S. Rosenthal
Jonathan S. Rosenthal
Sophie Rosenthal
Michael Rossman
Mr. and Mrs. Andrew Royle
The Ruben Family
Noah Ruben
Mr. and Mrs. Jefffrey Rum
Gerald Russ
Meghan Ryland
Mr. and Mrs. Alex Ryzhikov
Elissa Sachs-Kohen
Missy Sachs-Kohen
The Safeer Family
The Saks Family (Adam, Stacie, Noah & Abigail)
Maureen Salamat
Kenneth Sall
Mimi Salters
Leslie and Steve Salters
Dr. and Mrs. David Saltzberg
Micah Saltzberg
Jay and Daniel Salus
Herman & Walter Samuelson Foundation
Harry Sanderoff
The Sanderoff Family
Brian Saval
Gary Saval
Gretchen Saval
Sandy Bresnick Saval
Jared Savino
Michael and Carol Schaengold
Maya Schaer
The Schechter Family
Mr. and Mrs. Douglas Schehr
Evan Scheinberg
Nina I. Scherr
Peter Schiff
Erin Schiff
Barry and Elinor Schimel
Mr. and Mrs. Dan Schimel
Scott Schlossenberg
Mr. and Mrs. David Schmeidler
Howard Schoenfeld
Sara Schreurs
Mr. and Mrs. Stephen Schreurs
Dale D. Schuble
Mitch Schuster
Eric Schwartz
Nancy Schwartz
Zara Schwartz
Jack and Joan Schwarz
Mr. and Mrs. Joel Schwarz
Bunny Seidman
Laurie & Mitchell Serber
Zoe Setoe
Shane Family Fund
Robert Shapiro
Robert L. Shapiro
Janice Simshon Shaw
Lisa Shay
Ellen, Jim, and Ethan Sheridan
The Sherman Family
Mr. and Mrs. Lawrence Shulman
Dr. and Mrs. Stanley Shulman
Jordy Siegel
Ruth Blumenfeld Silber
The Silber Family
Beth Silver and Adam Gruen
Amy and Bob "Mouse" Silverman
Karen and Robert Silverman
Christina Sim
Allyson, Keith, Jared, and Noah Simon
The Singer Family
Josh "Smalls" Singer
The Sipos Family
Aliya Smelkinsom
Jodi Smith
Nina Smith
Sue Smith
Jason and Jill Smulson
Andie Snyder and Adam Greenstein
Dr. and Mrs. Jason Sobel
The Solovey Family
Mara Sparber
Matt Specht
The St. John Family
Marilyn and Mickey Steinberg
Stephany and Alan Steinberg
Marc and Maureen Sternberg
The Straus Foundation
Mr. and Mrs. David Struminger
Rob Tanenbaum
Kelly and David Tanenholz
Lou, Debbie, and Greg Taylor
Jodi Teitelman
Samantha Tepper
Dr. Steve Thompson and Family
Stephen Thorner
Thurmont Truck Stop
Stephen Tonelson
Joshua Tow
Mr. and Mrs. Eric Tublin
Mr. and Mrs. Idan Tzameret
Jill Tzameret
Sarah Valenziano
Nina van Wijnen
Katy Varty
Raz Vazana
Valentina Vides
The Vogel Family
Carly Wakefield
Jasmine Warwick
Rebecca Washbourne
Nikita Wassenaar
Laurie and Andy Wasserman
Bradlee Webb
Carrie and Matthew Weber
Allison Weber
The Weber Family
Mr. and Mrs. Steve Weber
Glenn and Debra Weinberg Philanthropic Fund
Nathan and Lillian Weinberg Family Foundation
Mr. and Mrs. Paul Weinblatt
Erin Weinblatt and Greg Friedman
In honor of Ben and Maya Weiner
The Weingrad Family
Mr. and Mrs. David Weisman
Cynthia Weiss
Howard Weitz
Rita and Barry Wertlieb
Steve and Nicki Whitman
Jeremy Widder
Stephanie Wiener
Shelbi Wiles
Howard and Karen Wilner
Alexis Windwer
Jo Wodiska
Andrew Wohlstetter
Mr. and Mrs. Richard Wolf
Becca Wolf
The Wollman Family
Rachel Wolman
Tori Wood
Lisa and Joyce
Rachel Yarsky
Laurie Young
David Yule
Mr. and Mrs. Steven Zaidman
The Zang Family
Marlena Zeidman
David and Tali Zemel
Taryn M. Zimmerman
Carol A. Zuckerman
[/one-third]