Airy Blog, Louise Blog
5 Tips for Staying Unplugged During the Year
MAKE TIME TO ENJOY THE WONDERS OF CAMP'S NO-SCREEN POLICY AT HOME
One of the special aspects of the summer experience at Camps Airy & Louise is our no-screen tech policy. Asking campers to join us for sessions full of interactive fun without feeling the pull of a video, Facebook message or game waiting in the bunk allows for much quality, in-person socialization and allows new skills and areas of interest to be developed. But what can be done to extend this great learning opportunity to home life during the remainder of the year?
While avoiding technology on a permanent basis is impossible here are 5 great tips to help your kids (and maybe you as well) regularly unplug at the right times, and live life in the flesh, year-round: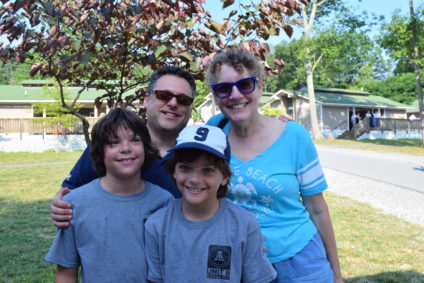 DESIGNATE FAMILY TIME
Researchers from the University of Essex found that simply having a cell phone on the table between you and whomever you're having a meal with adversely affects the intimacy of your discussion. The cellphone's mere presence tells the person you're with, "Whatever random person who tags or texts me while we're together is more important than you." So, when you want to spend quality time as a family, make sure there isn't a techie gadget in site. Ban all phones, music players, tablets and laptops from family dinners and establish regular family game nights, family movie nights or family outings. Schedule these occasions, just like you'd schedule business meetings, doctors' appointments and extracurricular activities – and communicate these plans to every member of the family. This way, unplugged family time can be viewed as just another part of everyday life that your spouse, sons and daughters will be sure not to miss.
HAVE A TECH LOCKER TO STORE AND CHARGE DEVICES WHEN NOT IN USE
Government offices do it. Some schools and universities do it. Why can't you? Setting a special place for your family's tech to be stored and charged while you enjoy some quality unplugged time, like a hanging shoe organizer or basket near a surge bar, makes device-free period more official and likely to be respected. Plus, knowing that they will be returned a fully charged cell phone, tablet or computer at the end of the activity will give everyone that little added incentive to join in on the unplugged fun.
REWARD ACHIEVEMENTS WITH EXPERIENCES
These days, it is extremely popular to motivate kids to achieve success at school or in other areas of life by dangling the possibility of new gizmos and gadgets overhead. But instead of gifting your children with more tech that will further disconnect them from the real world, why not take advantage of the opportunity to enjoy a bit of what the world has to offer, together? Instead of celebrating an impressive report card by spending a hefty sum on the latest iPhone, why not allocate the same amount of money towards concert tickets, an afternoon at the beach or an extreme sporting activity? Not only will this practice improve human interaction within your family, but it will also increase your kids' valuation of the physical gifts they are given.
ENCOURAGE PLAY DATES IN YOUR HOME
Your house, your rules. Their house, their rules. If you want your kid to unplug, encourage your kids to host play dates on your turf. That way, you can be around to suggest alternative activities that will keep them interested, engaged and in no way missing spending hours hooked up to the latest game console. Also important, be sure to prepare lots of yummy and healthy snacks, so no one's rumbling tummy spoils the fun.
SCHEDULE ALLOWED TECH TIME
Like with any other thing – moderation is key. When something is banned altogether, it become much more attractive. To get your kids to unplug when it matters most, schedule times where using tech is permitted, such as after homework is completed or for a set amount of time before bed (but not immediately before lights out. Studies link poor sleeping habits with exposure to cellphone or computer backlights right before bedtime). If they know that they will be allowed some time on the internet or playing Candy Crush at some point during the day, your kids will be more at peace with unplugging at other times and enjoying interactive time with family and friends.
Establishing set times for unplugging and set times for tech use seems to be the best way to keep your kids enjoying the awesomeness of camp's no-screen policy year-round. So, what are you waiting for? Get ready to unplug and start experiencing some of camp's magic at home all year long.