Airy Blog, Louise Blog
Alicia & Marty's Great Israeli Adventure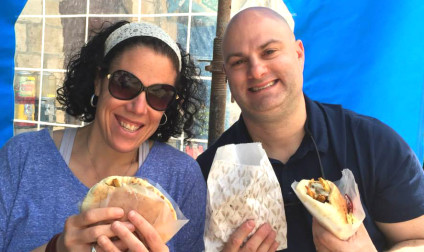 We recently returned from Israel where we had the opportunity to meet and train the 2015 Airy/Louise Shlichim, and also tour some of the country. The trip was enriching both personally and professionally.
The Camp Family
During our travels before the seminar with the Shlichim, we were reminded over and over about how far, wide and deep the Airy-Louise connection is. We spent time with Hadar Levi – a 3rd year counselor at Camp Louise- at her home in Kibbutz Kfar-Aza, right by Gaza. She toured us around and showed us her community and we met her family. So often, we have the chance to show the Israeli staff our lives when they are at camp in the summer. It was incredible to turn the tables and experience how our Shlichim live. Their hospitality was so generous, and they could not have been more pleased to meet some of the camp people that they had heard so much about.
Later that evening in Jerusalem, Airy/Louise Shlichim from the last few summers gathered to greet us and swap stories. An added surprise was the appearance of Airy/Louise staff that are studying abroad in Israel. Even our waiter at dinner that night had a connection – he was from Maryland and knew a famous camp family: The Gertons!
Camp is amazing, isn't it? It follows you wherever you go and helps to make this world smaller.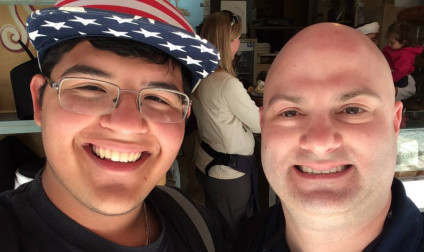 The next day in Tzfat, we were visiting historic synagogues and browsing through shops. We connected with Airy/Louise past and present in the span of a few steps. In a boutique, Heather Lentz from Louise spotted Alicia right away and broke into song and dance from Friday night folk dancing. Around another corner, Adam "Panda" Levingard spotted Marty while walking with his school group. We took a selfie, of course.
An "A-ha" Moment
One of the biggest takeaways from the training seminar was a new understanding of what it means to be a new person in an unfamiliar place. It occurred to us that the feelings we were having might be the same as those of a new staff member or new camper. The seminar location was the new "camp." We didn't know people's names, and we didn't know where things were. We were unsure if people would be nice, or if we'd like the food, or if we'd ever feel comfortable.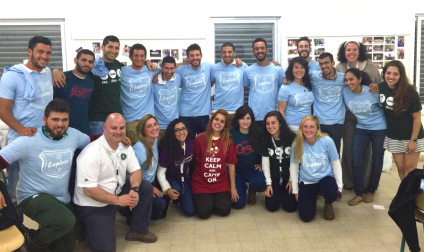 Guess what? The group leaders welcomed us with big smiles, hugs and handshakes. We took a deep breath, made sure our name tag was visible, and began to introduce ourselves to the other folks in our group. Four days later, we left feeling super excited that we had fit in, and in the process got to know 20 great staff members that will be spending Summer 2015 at Airy and Louise.
And we learned a new word – Sababa!
We find ourselves getting more and more excited for camp every day– we're sure you are too.
Best,
Marty & Alicia
Check out the full album of Marty & Alicia's Great Israeli Adventure.