Airy Blog, Louise Blog
Artists' Diaries: A Non-Artist's Perspective
They told me I would be writing for the "Artist's Blog".  I can assure you that no has ever called me an artist. I'm a bankruptcy lawyer today which might be the least artistic job. But I do appreciate the honor.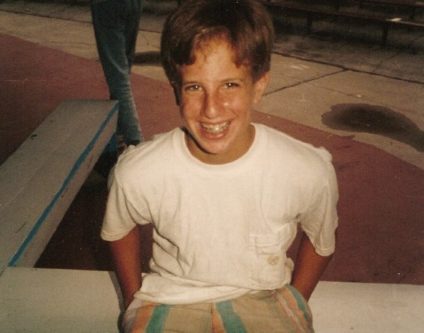 They asked me to tell you what it meant to perform on the stage at Airy and Louise. So I will. I appeared in two shows in the Solarium at Louise ("Music Man" a billion years ago, and "Once Upon A Mattress" a few years after that) and about half-a-dozen shows at the Cohen Theater at Airy.
In the heat and the haze of those evanescent summers, it meant everything.  For three intense weeks we'd sit, sing, work, act and play in the closest proximity.  Friendships were made, crushes fulfilled, hearts broken – and maybe some … art, was made too.
But that's where we learned about working together with people of varying types – there were serious performers (some still working actors today), people there on a lark to meet girls (or guys), and others just there to have fun with their friends for three short weeks each year.  I learned so much about working together and even more about myself.
I dealt with the thrill of success — my first breakthrough came in the summer of 1984. Mindy Kurasik, director of the "Music Man" at Louise, needed a little boy for the adorable part of Winthrop. (The prior summer I had been a munchkin in an Airy junior-camp production of "Wizard of Oz" — where I was best known for wearing shorts on my head as part of my costume.)
They asked me, at the ripe age of 11, whether I was willing to audition for the Louise show. I had no understanding of the implications of spending about 40% of my summer as one of four or five boys at an all-girls camp. So I said "sure."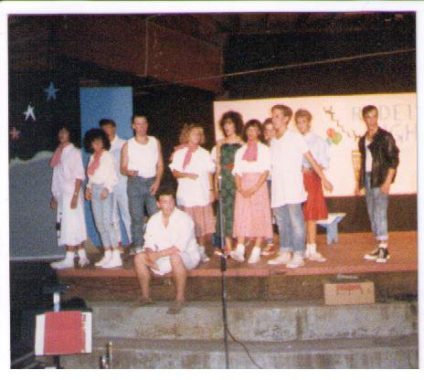 The boys cast in Louise shows are always pretty well-known around the camp for obvious reasons. But as the "cute little one" among a handful of teenagers, I became the entire camp's little brother. As an only child, this thrilled me (not in the way it would have three or four years later…).
The character of Winthrop steals every scene he's in and I did the role proud. No less than Miss Sara gushed praise for me (old-timers know that she offered sparse praise or delight…) and even offered her sacred chair at the theater's entry to my dad so he could take pictures.  
Next I learned to cope with disappointment.  After my star turn, I assumed the following summer would bring greater heights. But for some reason Airy did not produce a junior show that year and neither camp cast any little boys. I spent the summer in disappointment.  
I returned the next summer determined to reclaim my rightful spot in the spotlight.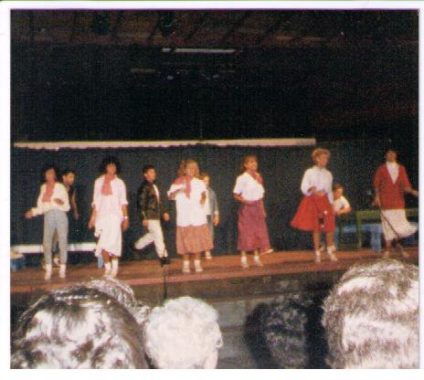 And that's where I learned grit and determination. I'm not sure the audition went well — hard to imagine for a kid just hitting puberty.  The director, Scott Bailey (who unlike his predecessor, the brilliant Mike Magenta, had not declared my star-turn in Winthrop "incredible") did not cast me despite my legendary status.  I was pretty distraught. BUT — luck struck. Whoever he had cast in the key role of Senex (lost to history) bailed after the first day of rehearsals — presumably once he realized he would not have much opportunity to play softball or basketball the rest of the summer.   
They held a new audition — me and a couple guys that had been cast in small roles turned out. I did not allow my first failure to discourage me and nailed the part.  
That year I made amazing friends like Sherri Landau, Michelle Loucas, Marji Carmel (I was still the little brother), James Mendehlson, Dave Renfro and others.  Over the next four year the family grew to include Alison Pantel, Liz Rudnick, Brian Raines Jen Falik, Deb Parver, Alex Gradet and even Neil Berlin. 
And maybe that's the last thing I learned from the Airy/Louise stage — how to build a family of people you care about wherever you go. How to make friends that last a lifetime.  
Here's hoping Jill's Place provides those memories for a new generation, just as the Solarium, the Downhill Social Hall, the Cohen Theater and the Terrace Theater have for decades.   
Performance History:
1983 Wizard of Oz (junior camp show)
1984 The Music Man (Louise)
1986 A Funny Thing Happened On the Way to the Forum
1987 Grease
1988 Joseph and the Amazing Technicolor Dreamcoat
1989 Once Upon a Mattress (Louise)
1990 Fiddler on the Roof