News
Camps Airy & Louise Chatter
If you're reading this, it means that you, or someone you know and love, has a connection to Camps Airy & Louise. Solarium, "The Hill," the people, the memories… they all mean something special. As we head into Summer 2016, we turn to you – our friends and family – to spread the word. Camps Airy & Louise are about people, relationships and shared experiences. We want to share the camp "magic" with as many people as possible.
Help us find the next families that NEED to discover how great Camps Airy & Louise are for children. While enrollment for 2016 is ahead of 2015 enrollment, we are always looking to bring in new families!
We're sure you have a story about how camp made an impact on you. Tell that story to your friends, family, and people in your school and synagogue circles. Then send them our way. We'll be ready.
Our hunt for great campers and families takes us near and far. You can find us at synagogues, camp fairs and parlor parties that span New Jersey to North Carolina, as well as many local stops along I-70, 495 and 695 in Maryland. In January, we had great turnout for our camper "Mid Winter Get Together," where over 350 campers attended a reunion in Rockville, MD. In March, we are inviting families to join us for a "camp" Shabbat in Savage, MD.
Summer 2016 at Camps Airy & Louise is shaping up to be a great one – it will be even more so with your help recruiting and spreading the good word about camp.
In other news…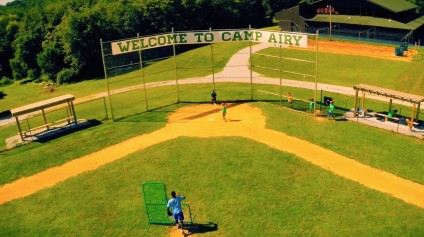 Summer 2015 at Camp Airy brought about the baseball center – now accompanying our 90-foot diamond are an outfield fence, foul poles, dugouts and a backstop that boasts a giant "WELCOME TO CAMP AIRY" sign. We expanded and relocated the skate park, resurfaced the floor of the Chernak Gymnasium, and increased our offerings in lacrosse and football. We added a Multimedia Department, and brought in professionals as special guest coaches, musicians, and artists.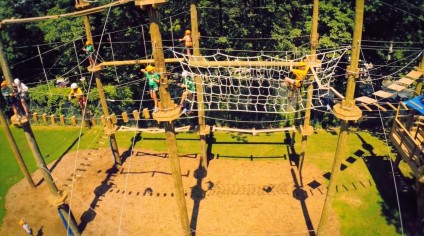 If you visited Camp Louise in 2015, you couldn't miss the new and exciting Adventure Park on Field 1 across from the White House. This three level extravaganza was a big hit. Campers and staff (and even some directors – not mentioning any names) challenged themselves on the different levels – clipping themselves in, walking across boards, scaling nets like a superhero, and zip lining and bungee jumping down. One of the best parts of the experience was hearing the encouraging cheers from the people below! In addition, our farming program continues to (literally) grow. Through our partnership with Amir, we had four farmers (and 10 chickens) on staff to help guide and teach. We even composted in the Dining Hall! Having some activities together with the farm, nature, and cookery led to some creative and delicious projects!
We have great promotional videos that capture these – as well as many other – memories from Summer 2015. Videos can be viewed here. You may also be interested in seeing our latest virtual tour, which can be viewed for both Camp Airy and Camp Louise.
Camp Airy wants to say "Happy Retirement" to our beloved Sandee Rosenstein. After 40+ summers at Airy, Sandee (and Marv) will pursue other summer adventures. Certainly we hope they'll visit and continue to tell stories that bring smiles to everyone's faces.
Our year-round team in Baltimore welcomed three new people. Neil Berlin (Director of Operations) and Aaron Gorman (Assistant Director) are familiar folks now in the Park Heights Avenue office, along with newcomer Jodie Knott (Social & Digital Media Manager).
Many thanks,
Marty & Alicia