Uncategorized
Camps Airy & Louise on Random Acts of Kindness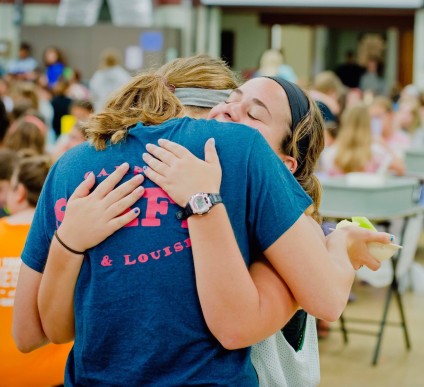 This month's blog post was written by Alicia Berlin, Director of Camp Louise. 
The day that Marty and I bundled up and trekked outside of our Baltimore office to build a snowman was Fun at Work Day….who knew? Every day is Fun at Work Day when you work for camp!
We recently got an email from an ice cream shop we love that it was Eat Ice Cream for Breakfast Day. How fun and delicious is that?!
I started doing a little research about other crazy holidays listed on calendars…….National Popcorn Day, Bubble Wrap Appreciation Day, Eat Your Vegetables Day, Look for Circles Day – just to name a few.
But one of these crazy holidays really struck me…..February 17th is Random Acts of Kindness Day. I started thinking about this idea of kindness. It seems so simple, yet so incredibly powerful!
If we could all just be kind….every day…..to everyone…..how amazing that would be. This month, I have made it my mission to do something kind each and every day – for my family, my friends, my colleagues, strangers.
It can be as simple as stopping a stranger to compliment her on a funky pair of leggings, baking some challah for a colleague, writing love notes in your kids' lunches, visiting someone in the hospital, sending someone a card to let them know how grateful you are for their friendship, inviting your mom out for coffee so you can catch up, putting a little extra in the tzedakah box on Shabbat, bringing a neighbor some veggie chili during a snowstorm, calling a family member to check in after you know they have had a rough day, cleaning out your closet and packing up bags to donate to Goodwill, sending a friend a gift card for dinner after they had surgery to make life a little easier for their family, cleaning out the garage before the blizzard so your spouse's car can fit in, sending a friend a gift in the mail – not for a birthday, just because you thought of her, putting down your own work so that you can do some fun science or art experiments with your kids, making a donation to a charity you are passionate about, modeling all of this for your kids so you can teach them the importance of being kind.
Let's make Random Acts of Kindness a priority – not just on February 17th, but every day! Join me. Not only will it make others feel good, it will do wonders for you! Trust me, it works!