Airy Blog
Culin-Airy Cookbook 2015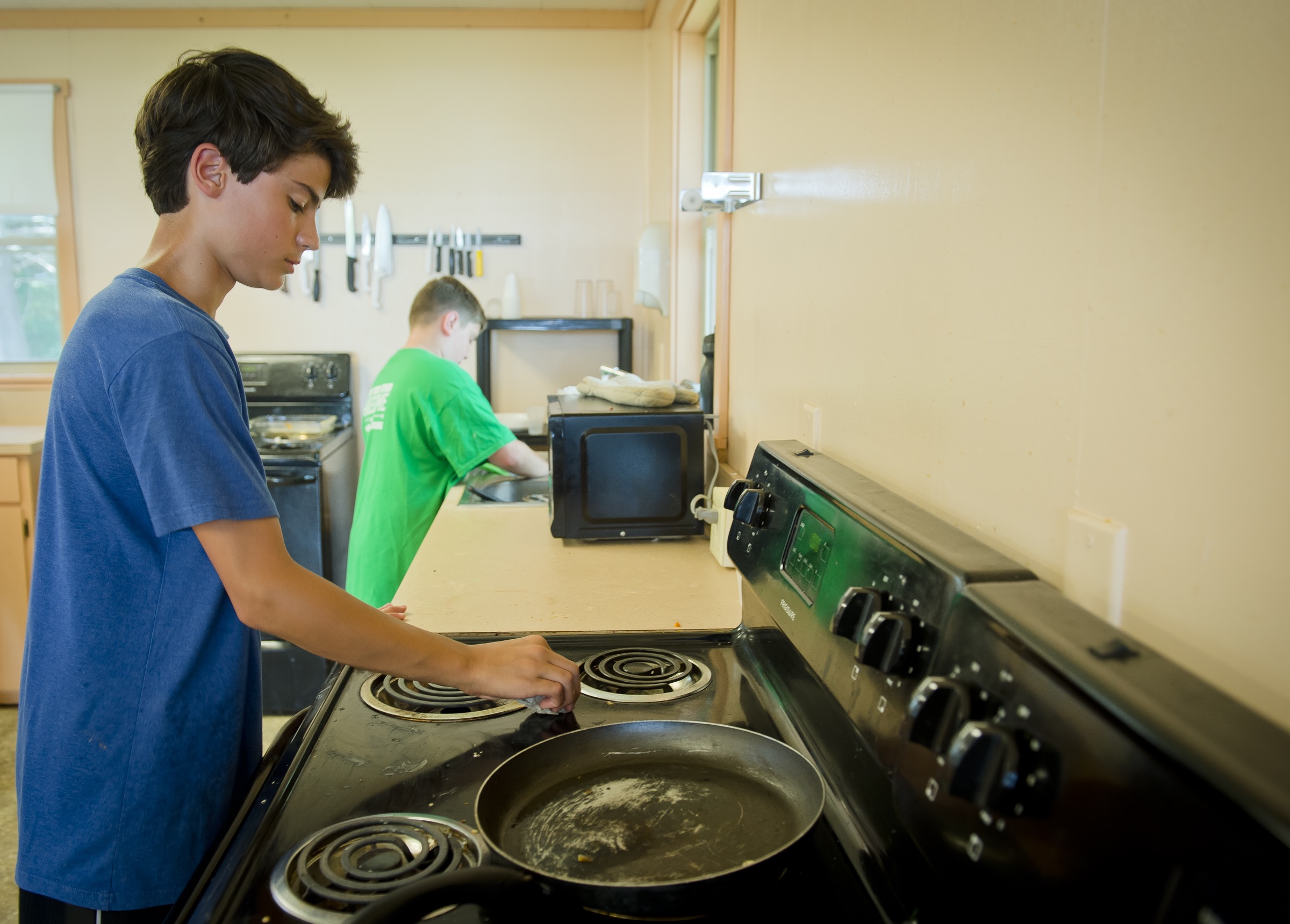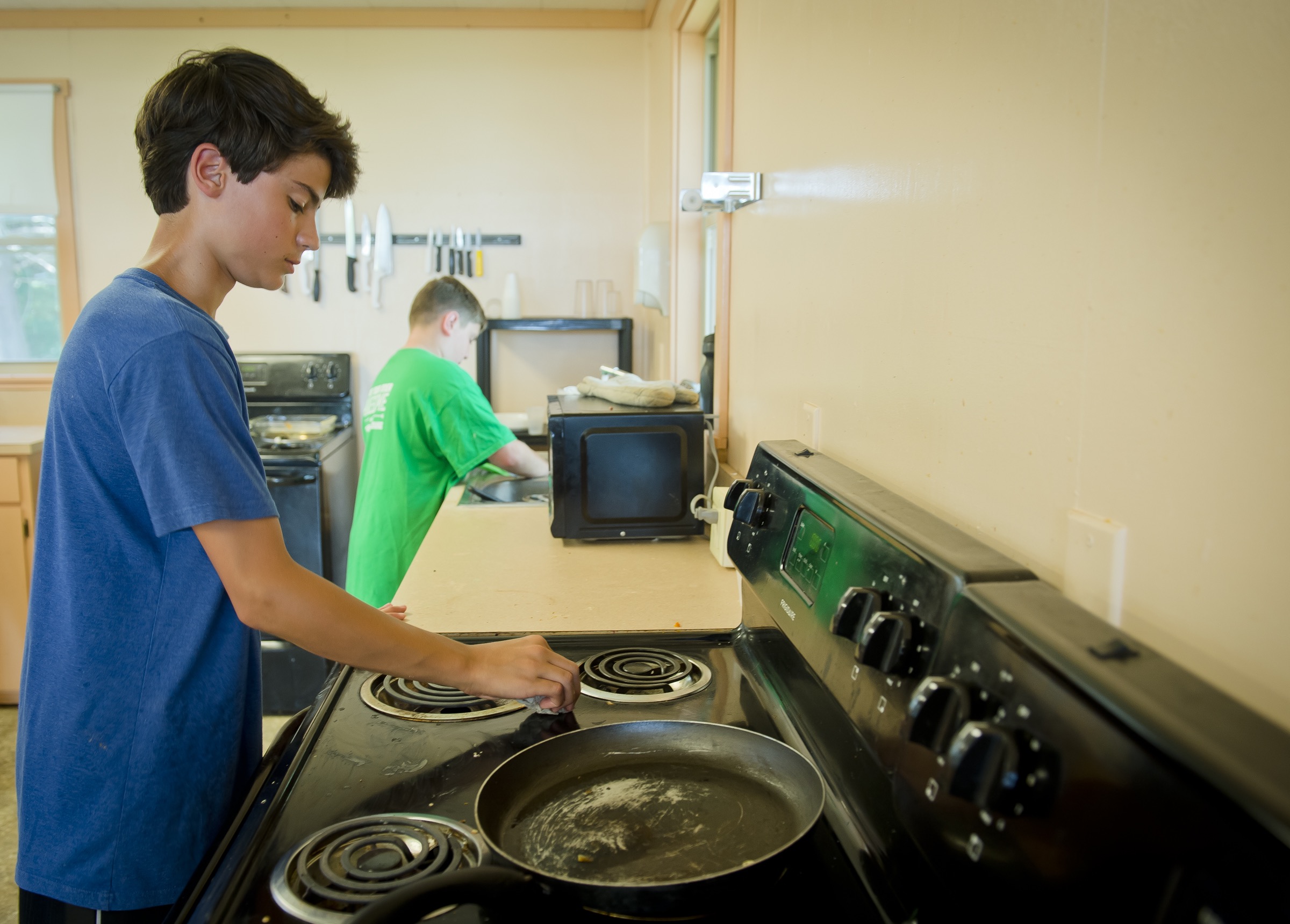 The following is a collection of recipes made in our CulinAiry program last year. Some of these recipes are the direct input of CulinAiry staff and some CIT 2015 campers who won a "Masterchef Cook-off". These recipes cover a variety of cultures including: Jewish, Israeli, Australian, English, Mexican, Middle Eastern and American. We hope you enjoy making these recipes at home!! 
Jam Roll
Ingredients:
1 cup flour
1 ½ tsp baking powder
salt (pinch)
2 whole eggs
¾ cup sugar
vanilla essence (to taste)
Method:
Preheat oven to 375oF
Line baking tray with grease proof paper
Sift flour, baking powder and salt into a medium sized mixing bowl
In a separate bowl (or mixer) beat eggs and sugar until thick and pale (it should hold a figure
8 shape when ready)
Stir in vanilla and milk
Slowly add dry ingredients and fold through
Pour into prepared tray
Bake for 8­10 minutes
Whilst still warm, spread with jam and roll
Allow to cool before serving
Scones (English)
Ingredients:
4 cups Self Raising Flour
1 cup sugar
Equal parts of cream and water
Flavourings (dates, lemon zest, apple & cinnamon, blueberry, chocolate chip etc)
Method:
Preheat oven to 360oF
Sift flour and sugar into bowl
Slowly add cream and water mix to form a dough
Add flavours and mix to combine
A little extra flour may be added if required
Roll out on floured bench and shape into balls (either by hand or cookie cutter)
Lightly spray tray and sprinkle with a little extra flour
Bake for approx. 12 minutes until lightly golden and well risen
Vegetarian Chilli
Ingredients:
2 cloves garlic (crushed)
2 onions
Tomato paste (to taste)
Chilli powder, ground cumin, smoked paprika (to taste)
1 Pepper (Capsicum) finely chopped
2 Carrots finely chopped
Salt and pepper ( to taste)
Kidney beans
Black beans
Method:
Finely chop carrots, garlic and pepper
Heat a little oil in a medium sized saucepan
Sauté vegetables, add spices, beans and tomato paste
Cook over a low heat for approx 1 hour
Season to taste
Serve with corn bread
Corn bread
Ingredients:
6 Tablespoons butter
1 cup corn meal
¾ cup flour
1 Tablespoon sugar
1 ½ teaspoon baking powder
Salt (pinch)
2 eggs
1 ½ cups milk
Method:
Preheat oven to 425oF, grease and line 12 hole muffin tin
Combine corn meal, flour, sugar, salt and baking powder into a bowl
In a separate bowl combine eggs, butter and milk
Pour wet ingredients into dry ingredients and gently fold through
Fill muffin tins ¾ to the top and bake from approx 10 minutes until lightly springy when
touched
Falafel with yoghurt dressing (Middle Eastern)
Ingredients: Yoghurt Dressing:
2 ½ cups chick peas Plain yoghurt
1 egg Salt
1/3 cup plain flour plus extra for rolling Lemon juice
2 cloves garlic (crushed) Ground cumin
1 ½ teaspoon baking powder Honey
Ground cumin (pinch or two)
Lemon juice (to taste)
Salt and Pepper (to taste)
Pita bread (to serve)
Method:
In a large bowl blitz chickpeas, garlic, egg, cumin and lemon juice until thick and slightly
chunky
Add baking powder and flour and pulse to combine
Set in fridge for approx. 30 minutes
Combine all ingredients for yoghurt dressing and set aside
Heat a medium sized pan with oil ready for frying
Roll falafel mix into small balls and coat in flour
Fry in small batches until golden brown and crispy
Drain on paper towel to remove excess oil
Serve with pita bread and yoghurt dressing
Sugar Cookies
Ingredients:
180g unsalted butter (soften)
1 egg
130g sugar
180g plain flour
Vanilla essence
Flavourings (m&m's, chocolate chip etc)
Method:
Cream butter and sugar until slightly pale
Add egg and vanilla. Beat well
Combine in flour and flavourings
Shape into small balls and flatten slightly
Bake at 350oF for approx 8 minutes (they should still be a bit soft, will harden when cooled)
Remove from tray and serve
Chicken Pot Pies (Aaron Kaplan CIT 2015)
Ingredients:
1 portion short crust pastry (see recipe below)
1 ½ chicken breasts
1 cup frozen vegetables (carrots, green beans, peas and corn)
½ onion finely diced
2­3 cloves garlic finely crushed
200mls cream
2 chicken bouillon cubes
Salt and pepper ( to taste)
Flour (enough to thicken cream mix)
Method:
Preheat oven to 400oF, grease 12 hole muffin tin
Roll out pastry fairly thinly and line pastry into prepared muffin tins
Bake in oven until lightly golden. Press slightly once removed from oven if required
Cut chicken into cubes and set aside
Finely dice onion and crush garlic, saute with vegetables until soft gently cooked through
In a separate pan simmer the cream with bouillon cubes and gently whisk to combine
When vegetables are cooked, remove pan and set aside
Cook chicken, shred into pieces once cooked and cooled slightly
Add juices from chicken to cream mix with a little flour to thicken. Whisk well
Combine all ingredients and mix well
Fill pastry cases with combined ingredients and bake for another 5­10 minutes until heated
through
Short Pastry
Ingredients:
2 cups plain flour
1 ½ tsp baking powder
1 tsp salt
water (chilled)
6 oz butter
Method:
Sift flour, salt and baking powder in a large bowl
Break butter into small pieces and rub into flour mix (should resemble fine breadcrumbs)
Gradually add enough water to form a dough (Do not over mix). Wrap in cling film and rest in
fridge for 30 minutes
Banana Bread
Ingredients:
2­3 bananas (mashed)
1/3 cup butter
1 cup sugar
1 egg
Vanilla essence (to taste)
1 tsp baking powder
Pinch salt
1 ½ cups flour
Method:
Preheat oven to 350oF
Grease muffin tin or small loaf tin
Mash bananas with fork. Stir in melted butter, salt and baking powder
Mix well to combine
Stir in sugar, egg, vanilla and sifted flour
Pour into greased trays
Baking times will vary depending on the tin size, check every 10 minutes
Bread is cooked when skewer comes out clean
ANZAC biscuits (Australian)
Ingredients:
1 ¼ cups plain flour (sifted)
1 cup rolled oats
½ cup castor sugar
¾ cup finely shredded coconut
2 Tablespoons golden syrup
150g unsalted butter
½ teaspoon bicarb soda
Method:
Preheat oven to 350oF
Place flour, oats, sugar and coconut in a large bowl and stir to combined
In a small saucepan place the golden syrup and butter and stir over low heat until butter has
melted. Mix bicarb soda with ½ tsp water and add to syrup mixture (mixture should bubble a
little so remove from heat)
Pour liquid ingredients into dry ingredients and mix together until fully combined. Roll
tablespoons of mix into balls and place on prepared baking tray
Gently press down to flatten slightly
Bake for 10­12 minutes until lightly golden (should still be a little soft on the inside)
Chocolate chunk mandel bread (Jewish)
Ingredients:
3 cups plain flour
1 teaspoon baking powder
¼ teaspoon salt
3 eggs
1 cup sugar
1 cup vegetable oil
1 teaspoon vanilla
Chocolate chips
1 Tablespoon lemon juice
Method:
Preheat oven to 350oF, grease and line baking tray
Whisk flour, baking powder and salt. Set aside
Beat eggs and sugar until thick and pale
Add vegetable oil, vanilla and lemon juice to egg mixture. Whisk well
Stir in chocolate chips and flour until there are no lumps
Divide into 2, roll into logs and place on baking tray
Bake for approx. 20 minutes, remove from oven and cool slightly before slicing
Re­bake for approx 5­10 minutes
Lamingtons (Australia)
Ingredients:
125g butter, softened Icing:
1 cup castor sugar 3 ½ cups confectioners sugar
½ teaspoon vanilla essence ¼ cup cocoa powder
3 eggs 1 Tablespoon butter (soften)
1 ¾ cup Self Raising Flour (sifted) ½ cup boiling water
½ cup milk
2 cups finely shredded coconut (decorating)
Method:
Preheat oven to 350F. Grease and line a deep baking dish
Beat butter, sugar and vanilla until light and fluffy. Add eggs one at a time beating well after
each addition (mixture may curdle slightly)
Sift half the flour over the egg and butter mixture, stir to combine. Add half the milk and stir
to combine. Repeat with remaining milk and flour.
Bake for approx 30 minutes. Stand in pan for 10 minutes before turning onto wire rack. Allow
to cool completely
Meanwhile make icing by whisking confectioners sugar with cocoa, butter and water
Cut cake into pieces and dip into chocolate mixture before coating with coconut, allow to set
in fridge before serving
Challah (Jewish)
Ingredients:
2 teaspoons active dry or instant yeast
1 cup (8 oz) luke warm water
4­4 ½ (20­22 oz) cups plain flour
¼ cup white sugar
2 teaspoons salt
2 large eggs
1 egg yolk (reserve the white for glazing)
¼ cup vegetable oil
Method:
In a small bowl or jug sprinkle the yeast over the luke warm water and add a pinch of sugar,
stir to dissolve. Yeast mixture will froth slightly
Wisk 4 cups flour with sugar and salt, make a well in the centre
Add whole eggs, egg yolk and oil, whisk together to form a slurry bringing in some flour from
the sides
Pour in yeast mixture and mix until dough is formed (extra flour may be required)
Once dough has formed, knead on a floured bench for approx 10­12 minutes (the dough is
finished when it is soft, smooth and holds a ball shape)
Place dough in a lightly oiled bowl, cover with cling film and allow to double in size (approx.
45 minutes­1.5 hours)
Once dough has risen, punch before kneading again for another 5 minutes
Allow to rise again (15 minutes)
Dough can then be divided into 4 to make 4 smaller individual challahs or one large challah
(everyone made individual ones)
Break dough into ropes and braid together (can braid 3,4 or 6)
Place braided loaves on a baking tray and brush with egg white, ensuring to get into all the
cracks
Bake for approx. 30­35 minutes until golden. Serve warm or allow to cool
Mixed berry jam
Ingredients:
Frozen mixed berries
Tinned apples
Castor sugar
Method:
For every kilo of berries, 1.5 kilos of sugar is required and approx 750g apples
Heat all ingredients over medium to low heat for approx 1­3 hours, stir often so jam doesn't
burn on the bottom
Jam will get thicker and stickier as time goes on
Using a stick mix, gently pulse all ingredients to for jam consistency
Kedgeree (English)
Ingredients:
40g butter
1 large brown onion finely diced
2 Tablespoons mild curry powder
1 lemon, juiced
3 cups long grain rice (cooked and cooled)
6 hard boiled eggs
800g tuna, grained and flaked into pieces (salmon can be used instead)
Sultanas (optional)
Tomatoes finely diced (optional)
Method:
Cook rice according to packet instructions, allow to cool slightly
Boil eggs and set aside once peeled
Melt butter in a large saucepan over medium heat. Add onion and cook for 3 minutes until
tender.
Add curry powder and lemon juice. Stir until well combined
Add tomatoes and sultanas if using and gently heat through
Add cooked rice to saucepan, stir until rice is well coated with curry mixture. Stir occasionally
until rice is hot and cooked through approx 5 minutes
Add tuna and mix to combine, remove from heat
Roughly chop eggs and gently fold ¾ of them through rice . Season with salt and pepper
Serve remaining eggs on top of rice
Churros (mexican)
Ingredients:
1 cup of water
2 1/2 Tbs white sugar
1/2 tsp salt
2 Tbs oil
1 cup flour
Oil for frying
Sugar (to taste)
1 tsp ground cinnamon
Method:
In small saucepan over medium heat, combine 2 ½ Tbs sugar, salt, and 2 Tbs of oil. Bring to
a boil, remove from heat. Stir in flour until mixture forms ball.
Heat fryer oil to 375 degrees F. Pipe strips of dough into hot oil using piping bag. Fry until
golden, drain on paper towel.
Combine remaining sugar with cinnamon, roll drained churros in cinnamon sugar and serve.
Creme Patisserie
Ingredients:
500mls milk
4 yolks
125g sugar
30g cornflour
30g flour
vanilla (to taste)
Method:
Heat milk & vanilla till scalding point
Beat yolks & sugar till thick pale & creamy
Add corn flour & flour
Slowly whisk in hot milk to egg mix; beat quickly so eggs don't scramble
Pour mixture back into pot and whisk until thick and mixture "burps" in pan. Remove from
pan and allow to cool.
Semolina Yogurt Cake
Ingredients:
1 cup semolina
½ cup sugar
1 ½ cup yogurt
½ cup oil
3 eggs
3 Tbs flour
Vanilla
½ tsp baking soda
1 tsp baking powder
pinch of salt
Icing Ingredients:
1 cup water
1 cup sugar
1 cup lemon juice
Method:
Preheat oven to 350 degrees F.
Beat eggs & sugar till thick and pale.
Add yogurt & oil, mix well
Add remaining ingredients all at once & mix well. Batter should be smooth.
Bake for 25­ 30 mins until skewer inserted comes out clean.
Pour syrup over whilst cake is still warm
Icing Method:
Boil water & sugar (stir in lemon juice)
Remove from heat and allow to cool.
Apple tea cake
Ingredients:
4 eggs
1 cup sugar
1 cup flour
1 Tbs baking powder
1 Tbs cinnamon
3 apples (peeled & diced).
Method:
Preheat oven to 350 degrees
Beat eggs & sugar until thick and pale
Add flour, baking powder & cinnamon combine
Fold in apples
Bake for approx 40 mins
Apple Sorbet
Ingredients:
2 cups apple juice
3­4 apples (peeled, cut into ½ inch pieces)
1 Tbs lemon juice
3 Tbs Sugar
Method:
Combine with a pinch of salt. SImmer uncovered for 10 minutes. Strain through sieve into
blender. Add half solids into blender. Puree apple mix and chill until cold. Churn.
Rugelach (Jewish)
Dough Ingredients:
8 oz butter (room temp)
8 oz cream cheese
¼ cup sugar
3 yolks
¼ tsp salt
2 cups flour + extra to roll
vanilla (to taste)
Filling Ingredients:
½ cup sugar
pinch cinnamon
pinch salt
12 oz apricot jelly (tin)
2 cups choc chips
Method:
Preheat oven to 350 degrees
Beat butter & cream cheese, add sugar & beat till fluffy
Beat in yolks one at a time to combine
Add vanilla & salt and beat well
Slowly fold in flour
Divided into 3 and cover with cling wrap. Refrigerate for 45 mins
Combine all ingredients well for filling
Roll out dough and fill with mixture, roll into crescents for approx 15 mins or until golden
Damper (Australian)
Ingredients:
3 cups self­ raising flour
pinch of salt
80g butter, chilled, cubed
¾ cup water
Cheese and or herbs (optional)
Method:
Preheat oven to 200 degrees C. Line a baking tray with non­stick baking paper. COmbine
the flour and salt in a large bowl. Use our fingertips to rub the butter into the flour until the
mixture resembles fine breadcrumbs.
Add the water to the flour mixture and use a round­bladed knife in a cutting motion to mix
until the mixture just comes together, adding 1­2 Tbs extra water if the mixture is a little dry.
Use your hands to bring the mixture together.
Turn the dough onto a lightly floured surface and knead gently for 1­2 minutes or until
smooth. Shape into an 18cm disc and place on tray. Use a sharp knife that has been dipped
in flour to mark 8 wedges on top. Dust the damper with a little extra flour and bake in
preheated oven for 30 minutes or until the damper is cooked through and sounds hollow
when tapped on the base. Transfer to a wire rack for 5 minutes to cool slightly. Serve warm
or at room temperature.
Crumble
Ingredients:
225g plain flour
90g sugar
pinch salt
115g butter
Method:
Sift dry ingredients together
Rub in butter to resemble breadcrumbs
Bake in oven until lightly golden
Store in airtight container until ready to use
Orange Semolina Cake
Ingredients:
125g butter (softened)
1 Tbsp orange rind
1 cup sugar
2 eggs
⅔ semolina
1 ½ cups self raising flour
½ cup milk
Icing Ingredients:
1 cup sugar
½ cup orange juice
Method:
Preheat oven to 375 degrees F. Grease & line 12 hole muffin tin
Beat butter, sugar & lemon rind till thick pale
Add eggs one at a time
Add milk and combine (may curdle slightly)
Gently fold in semolina & flour
Pour into prepared tins and bake for approximately 10­15 minutes
Shakshuka (Israeli)
Ingredients:
1 Tbs olive oil
½ medium brown onion, peeled and diced
1 clove garlic, minced
1 medium green bell pepper, chopped
4 cups diced tomatoes
2 Tbs tomato paste
1 tsp chilli powder (mild)
1 tsp cumin
1 tsp paprika
Salt and pepper to taste
6 eggs
½ Tbs fresh chopped parsley (optional, for garnish)
Method:
Saute onion & garlic over medium heat. Add peppers and cook for approximately 5­8
minutes until soft.
Add tomatoes, tomato paste & spices. Simmer for 10 minutes.
Crack the eggs, one at a time, directly over the tomato mixture, making sure to space them
evenly over the sauce.
Cover the pan. Allow mixtures to simmer for 10­15 minutes or until the eggs are cooked and
the sauce has slightly reduced.
Serve with flakey bread.
Blondie
Ingredients
8 Tbsp butter (soften)
1 cup brown sugar
1 egg
1 tsp vanilla essence
Pinch of salt
1 cup flour
(Smarties, choc chips etc.)
Method:
Preheat oven to 375oF
Beat butter and sugar till thick and pale
Add egg and vanilla and salt and beat well
Beat in flour till combined. Add desired flavourings and mix to combine
Pour into prepared tin and bake for approx 15­20 minutes
Blueberry muffins
Ingredients:
1 3/4 cup flour
1/4 cup sugar
2 tsp baking powder
Pinch salt
1 egg
1/2 cup water
Blueberries (or any other flavors of your choosing)
Method
Preheat oven to 400oF
Sift flour, baking powder, sugar and salt
Fold in flour until well combined
Add blueberries or other flavourings
Bake in prepared muffin tins at 350oF for approx 12 ­15 minutes ( or until an inserted skewer
comes out clean)
Chocolate cake
Ingredients:
2 cups flour
2 cups sugar
3/4 cup cocoa powder
2 tsp baking powder
1 1/2 tsp baking soda
1 tsp salt
1 cup milk
2 eggs
1/2 cup vegetable oil
Vanilla essence (to taste)
1 cup boiling water
Method:
Preheat oven to 350oF
Sift flour, sugar, cocoa, baking powder, baking soda and salt. Stir to combine
Add milk, oil, eggs and vanilla. Stir till well combined
Carefully add boiling water and beat for 2­3 minutes
Bake for 30­35 minutes
Latkes (Israeli)
Ingredients:
5 large potatoes (peeled and grated)
1 large onion (grated)
3 eggs
1/3 cup flour
Salt and pepper ( to taste)
Oil for frying
Method
Grate potatoes and onion on a fine grater, strain through a colander and press out excess
water.
Add eggs, flour and seasoning.
Mix well to combine
Heat ½ cup oil in large skillet, lower flame and place 1 large tablespoon batter at a time in
hot oil.
Cook for approx 5 minutes or until golden, turn over and fry till on other side
Remove from pan and drain on paper towels, continue until batter is finished
Serve with apple sauce on side (optional)
Vegetarian wrap
Ingredients:
4 large potatoes (grated)
1 onion (grated)
2 carrots (grated)
1 cup chickpeas crushed
Onion powder (to season)
Salt and pepper (to season)
1­2 eggs
Breadcrumbs
Lettuce, tomato, aoili (to serve)
Tortilla wraps
Oil for frying
Method:
Grate potatoes, onions and carrot into bowl
Combine with onion powder, salt and pepper
Add eggs one at a time with some breadcrumbs until mixture is well combined. (It should
hold a ball shape)
Set aside
Slice tomatoes and have wraps, aioli and lettuce ready
Fill a shallow pan with about 1 inch of oil
Once oil is hot, gently place the patties in. Cooking about 3 patties at a time
Cook for approx 5 minutes or until golden, gently turn over and cook for another few minutes
until golden
Drain on paper towel before assembling wrap
Honey siracha chicken with buttermilk biscuits (Josh Lerner 2015 CulinAiry Staff)
Ingredients:
Biscuits­
2 ¼ cups plain flour
2 tsp ­ 1 1/2 Tbs sugar
1 Tbs baking powder
¾ tsp salt
¾ tsp baking soda
125g butter (chilled and cubed)
175mls buttermilk
Chicken tenderloins
Plain flour
Salt and pepper
Onion powder
Buttermilk
Oil for frying
SauceHoney
Siracha
Butter
Method:
Prepare the sauce by gently melting a little butter with honey ovr a low heat. Add siracha to
taste
Allow ingredients to combine and gently heat through. Set aside
For biscuits combine flour, sugar, salt, baking powder and baking soda into bowl. Mix
Add cubed butter and rub together until combined
Slowly add buttermilk to form dough
Gently kneed on a floured bench and allow to rest for 5 minutes
Roll out dough. Cut into circles with cookie cutter or drinking glass.
Bake at 350oF until lightly golgen and cooked through
Set aside
Heat a large pot or pan with 1­2 inches oil for frying
Combine flour, salt and pepper and onion powder into a bowl
In a seperate bowl pour in buttermilk
Coat chicken in buttermilk then into flour mixture
Fry a few pieces at a time until golden and cooked through (if chicken is browned but not
cooked, remove and place in oven to cook through)
Repeat until all chicken is used

Note: Some of these recipes have be done with the metric system. They can all be
converted if required. Tbs means tablespoon and tsp means teaspoon
I hope you all enjoy cooking these recipes with your children at home!