We provide a suggested packing list for both camps. The list applies to every session.
All articles of clothing and other personal belongings should be marked carefully with your child's full name to minimize missing items.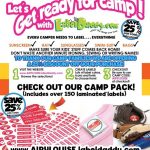 Label Daddy has graciously offered a 25% discount on labels with the promo code: AIRYLOUISE. They even have labels with the Camps Airy and Louise logo available! The link is listed below:
LAUNDRY
Camp laundry occurs weekly. The cost for this service is included in camp tuition. Although our laundry service staff is careful and experienced, the camps cannot take responsibility for lost or damaged clothing or other personal items. Be sure to label all garments clearly and use a real laundry bag, not a mesh bag.
Campers are required to bring their own sheets, pillow cases, blankets and towels. All campers should bring two sets of bed linens which are washed separately from clothes.
Note: There will be no linen service for short session or rookie campers.
SHOPPING WITH STACY: 
Tips & Tricks to Prepare for Camp
Setting up your Bunk with Stacy