Airy Blog
Director's Blog – August 1, 2015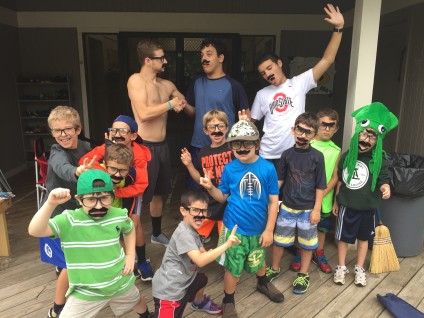 Our Rookies' last day in camp was today – these 10 young men made quite a name for themselves in just one week. They announced their presence with matching Batman shirts at line-up on "Neon Tuesday." They took trips to Pump It Up and to the Thorpewood Equine Center. They even had an impromptu Bar Mitzvah party – just because. We look forward to these young men coming back to Airy for many more weeks and for many more summers.
At the other end of the camper spectrum, we salute our 2015 CITs for designing and delivering a fun-filled day for all of camp on Saturday. Their Shrek-themed day challenged campers and counselors to accomplish tasks while trying to rescue Fiona. The introductory video that they showed camp on Friday night after song session was VERY FUNNY and did a great job of getting the rest of camp excited for the day ahead.
When we had a few minutes together as a camp at the end of morning services today, I remarked to campers and staff that it seems like summer has flown by. How could it already be August? Our planning for Summer 2015 began even before the dust had settled on Summer 2014. And then before we realize it, we're saying goodbye to Rookies, and laughing our way through CIT day, and there are only 8 days of camp left!?! I know that we have lots of great things left to do – an event at Camp Louise, a drama production, and Olympics to name a few. I know our campers will have a blast, and I look forward to sharing our last week of stories with you.
Today's Birthdays

Luca B.
Max M.
Today's Menu
[table "" not found /]
Today's Weather

High: 90°F | Low: 63°F

Today was sunny and warm before cooling off nicely at night.
Marty Rochlin
Director