Airy Blog
Director's Blog – August 1, 2016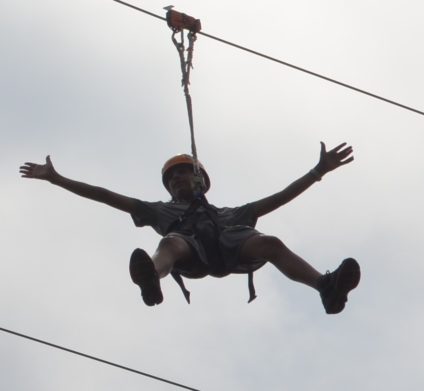 Look ma, no hands! A hi-light activity this summer at Camp Airy has been the "MegaZip." MegaZip is not just a zipline. It is a dual zipline (that means two lines side-by-side, one person on each) that spans over 800 feet. The launch platform stands atop a 60-foot staircase. The path of MegaZip takes a rider over camp fields, and over the camp road, to a finishing area with a dynamic braking system. In other words, you'll be zipping down the zipline enjoying the breeze and the view, approaching the end of the ride, when the braking system partners up with the harness and brings a "zipper" to a gradual (and safe) ending. Zippers then disconnect, dismount via ladder, and get in line to ride again.
Two zipline stories to share … I rode MegaZip (sometimes affectionately referred to as "ZipZilla") during our June pre-camp training time. Gary and Andrew from Airy Outdoors were my guides. They coached me through every step of the process – putting on the harness, taking the proper position on the platform, getting correctly hooked into the lines, and eventually taking the first step to my more-than-800-foot journey. The trepidation I felt before stepping off the platform was exceeded by the pride and exhilaration I felt along the ride. We captured video of the ride – including all of my whooping and laughing and hollering. It was quite a rush.
A few weeks later, our daughter Lilly had a chance to ride the MegaZip. I tagged along for the walk up the stairs and to capture some photos before the zip. I was probably more nervous than she was, but I digress. At the top, I asked one of the counselors – Yuval – this question: "Do you ever get bored of seeing 1st-time zippers start their ride timid and uncertian, and then seeing them screaming in delight as they zip? And then seeing campers running back for another zip?" Yuval smiled. "It's the best," he said.
I am proud that we can offer campers – and staff – the chance to experience the fun of the zipline, and in the process experience a thrill / conquer a new challenge. It's called "Find your inner awesome."
Marty
Today's Birthdays
Max
Today's Menu
[table "" not found /]
Today's Weather

High: 88°F | Low: 75°F
Sunny, stormy, then overcast but dry