Airy Blog, Louise Blog
Directors' Blog – August 1, 2017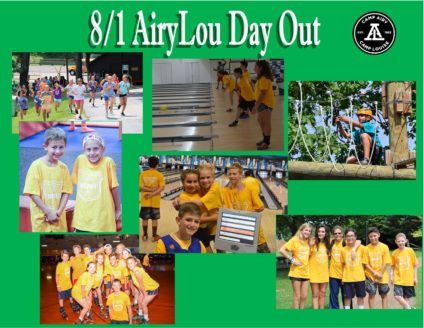 Unit A and Rookies jumped around,
Sky Zone is a cool place in any town.
Unit B bowled and knocked down pins,
The camper with the most strikes usually wins.
Unit C saw the Keys on Monday,
Then the guys and girls swapped camps today for a fun day.
Unit D played at the Family Fun Park,
Mini Golf and Water Balloons both hit the mark.
Unit E skated at a Hagerstown rink,
They raced and jumped more than you think.
Unit F hit the lanes for bowling as well,
We'll SPARE you a bad pun – isn't that swell?
The trainees are away on their overnights,
For Cedar Point, Greenbriar, and Guppy Gulch delights.
Marty and Alicia
Today's Airy Birthdays
Max
Today's Airy Menu
[table "" not found /]
Today's Airy Weather

High: 80°F | Low: 67°F
A really nice day with a few minutes of rain around lunch time
Today's Louise Birthdays
None – Happy Un-Birthday to All!
Today's Louise Menu
[table "" not found /]
Today's Louise Weather

High: 85°F | Low: 67°F – Gorgeous day!