Airy Blog
Director's Blog – August 1, 2018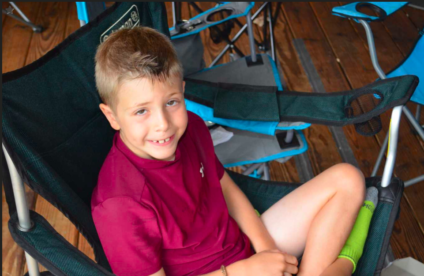 "I've Been Hangin' Around"
A favorite Airy pastime of campers young and old is hanging out on the bunk porch. Dating back more than 20 years, a camper's pre-camp shopping trip has included finding the perfect chair to bring to Airy. Before the advent of the fancy folding chairs that come in the bag and have cup holders and compartments, we had aluminum chairs with criss-cross webbing. Those chairs rarely lasted a full summer. We would gather chairs around a bunkmate's trunk and play cards, or swap stories, or debate our favorite ball player.
I'm pleased to report that today, nothing and everything has changed. Bye bye aluminum, hello steel frames with durable polyester. Bye bye trunks, hello home-made card tables that have been built and delivered – some featuring the names and signatures of the team that did the construction. The game of choice was and is Spades. Pairs take on one another as they bid for how many of the 13 rounds they might win. Cards are dealt, the player with the two of clubs leads, and the game is on. Porch conversations are more diverse. Surely campers enjoy a debate about sports – hopefully and specifically, the Camp Airy Fantasy Football League … shameless plug – sign your campers up to join in the fun … information forthcoming.
It's even better when the group hanging out in chairs includes staff. I was lucky enough one recent evening to play a game of Spades against a pair of Senior Camp campers. The duo had won a camper spades tournament, and their "prize" was to take on their Division Head Adam and me. While we played and matched wits, a small gallery came to watch. The stars were certainly aligned that night. Under clear skies, we played spades on my cabin porch. No phone calls. No walkie talkie interruptions. Just guys playing cards.
We are proud here at Airy about the way camp is able to simultaneously be fun and cool and historic and charming. It's one of the only places where guys whose ages range from 13 to 44 can be on a first name basis and play cards on a porch. The same holds true for playing guitars, or shooting hoops, or working in woodshop.
Have a good night … I'm heading back to the porch.
Marty
Today's Birthdays
Max
Max
(Yes, two different people)
Today's Menu
[table "" not found /]
Today's Airy Weather

High: 83°F | Low: 70°F
Stop me if you've heard this before – It was wet, it was dry, it was wet, it was dry …!