Airy Blog
Director's Blog – August 1, 2019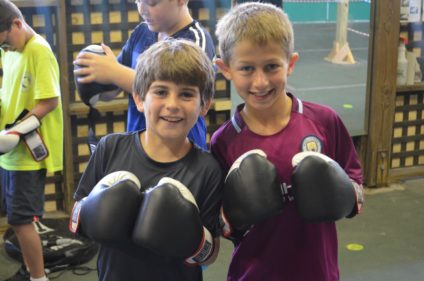 "Eye of the Tiger"
These two guys (or any two campers, depending on who the camera catches each day) may go from being bunkmates to best friends to college roommates to groomsmen in each other's weddings … and then boxing world champions! All because of camp. I'm not exaggerating.
Camp makes almost anything possible. Let me try to explain why. Airy is a place where you can do things you can't usually do at home, with lots of people who you don't see at home, in a 24-hour, 7-day setting. There is novelty and challenge and tradition and teamwork and competition and independence … and a big hill. We bring together friends and mentors and coaches and instructors, and an invitation to try something new, or delve deeper into an area of interest. The attitude and atmosphere foster having fun, being persistent, taking risks, and growing in every way.
So you can be a camper who tries boxing. Experience tells us that the boxing (or any activity), and/or the counselor, and/or the other campers in the activity will resonate with a camper. By feeling competent in a skill area, and connected to counselors and campers, and free to be oneself, a camper finds his footing in camp. And then, anything is possible.
In a little over a week, when you are driving home with your camper – before you do the laundry – ask him about new things and new people. I anticipate that his eyes will light up telling stories, and that you will have a happy camper counting down the days until next summer.
So long until the next blog,
Marty
Today's Birthdays

Max F.
Max M.
    BLOG SPOTLIGHT – Airy STs

What a Special Tuesday (get it, ST) we had this week! The STs just got back from an amazing overnight at Cedar Point in Ohio. Overnights are always a highlight of the trainee program, which sees each group (ST, CA, and CIT) going on an overnight to somewhere special with their own Unit and Louise. The bus ride may have been long on the way to and from Ohio, but we had plenty of good movies and laughs along the way. When we got to Ohio, all the Airy boys wanted to go to the beach, so we went! It was, without a doubt, the best hour of camp this session. We went in the water, played cornhole, and played a great game of volleyball before heading back to the hotel. The next day at the amusement park was just as fun, with lots of twists, turns, and food! As we head into this weekend, and soon this last week of camp, the STs will be having more fun and more surprises as we wrap up a session filled with lots of Special Times (get it, ST).
~Dan, Unit Leader STs
Today's Menu
Breakfast , Lunch , Dinner
Scrambled Eggs | Biscuits | Gravy | Cereal | Fruit | Yogurt , Chicken Sandwiches – Grilled and Fried | Waffle Fries | Salad Bar | Pasta Bar | Chocolate Chip Cookies , Meatloaf | Broccoli | Mashed Potatoes | Salad Bar | Pasta Bar

Today's Weather

High: 88°F | Low: 70°F
A mostly sunny, pleasant day.