Louise Blog
Director's Blog – August 1, 2019
GIRLS INC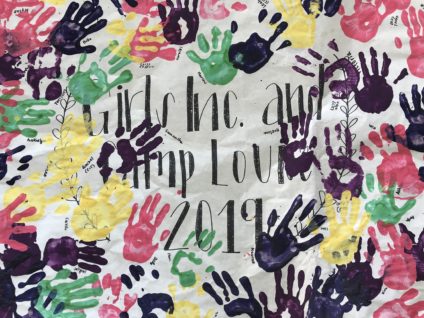 Our CITs (rising 12th graders) do a lot during their time at camp. They welcome campers on Opening Days, they help teach at departments, they raise the flag, they participate in MANY bonding activities throughout their summer, they wear funny costumes, they sing in Shabbat choir, they play with their little bunks, they sing songs, they write a Shabbat service, and they do some community service.
During the summer, groups of CITs visit Girls Inc. of Washington County in Hagerstown, MD. As described on their website, Girls Inc inspires all girls to be strong, smart, and bold. What a great organization for us to partner with during the summer!
When the CITs are at Girls Inc, they lead games and help facilitate activities. Some of the Girls Inc campers' favorite games have been those that have been taught to them by Camp Louise CITs in previous summers.
The other day, over 65 girls from Girls Inc visited us here at Camp Louise. The CITs played the role of counselors for the day, and the girls got to participate in activities, like dance, nature, arts & crafts, folkdance, drama, music, and so much more. My favorite is the random dance party that breaks out while they are together!
Today some of our CITs went to Hagerstown to visit the girls on their home turf.
This tradition is something that both groups look forward to each summer.
When I spoke to some of the Louise CITs, they told me how much they have loved their time with Girls Inc. They told me:
We love seeing these girls having so much fun and giving them this camp experience.
 It was so fun!
 We were so genuinely happy to see each other!
 The girls from Girls Inc are so accepting and happy to be with us.
 They enjoyed all the activities we have here.
 They were so happy with whatever they were doing – even just painting rocks in nature.
At the end of their day, the Louise CITs and Girls Inc campers created a handprint poster made together.  One of the CITs told me:
Putting all of the handprints together was a great way to end the day. It was like becoming a part of something bigger and it was so heartwarming.
I am so proud of our CITS and I am so grateful for these experiences that they have.
Alicia
Today's Birthdays

HAPPY UN-BIRTHDAY!
UNIT SPOTLIGHT – STs 

Imagine a group of 15 years old girls holding hands in a circle without being able to let go till their mission is accomplished. All they needed to do is to face the other side of the circle together.  It sounds simple at first, but it is not very simple if you don't work as a group. It took around 10 minutes to figure it out, but they did it!   That was part of the ST training today, we talked about how we apply teamwork in different times in our lives and how it can benefit us differently in camp or in school. The STs know that they have a supporting and loving group of friends in camp and together they create memories that they will cherish for life.
Michal – ST Unit Leader
Today's Menu
Breakfast, Lunch, Dinner
Pancakes | Scrambled Eggs | Melon, Ravioli | Eggplant Parmesan | Italian Veggies | Garlic Bread | Salad Bar | Pasta Bar, Hamburgers | Hot Dogs | Corn | Lettuce Tomato Onions Pickles | Potato Salad | Cucumber Salad | Watermelon | Salad Bar | Pasta Bar
Today's Weather

High: 85°F | Low: 68°F – Beautiful day!