Louise Blog
Director's Blog – August 10, 2018
SHABBAT SHALOM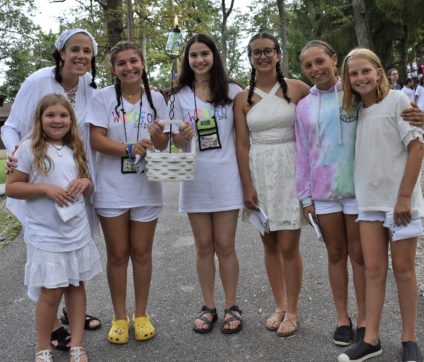 How is it our last Shabbat at camp?! What a perfect way to end….with the Middah of the Week being gratitude/hakarat hatov (recognizing the good)!
When we introduced the Middah of the Week at Havdallah last Saturday, we talked about using this last week to truly be grateful for being here – for our friends, our experiences, for camp! Before we know it, we will be back in our home lives – counting down the days until next summer. Let's really appreciate all we have while we are here!
These girls sure did just that! They were nominated to light candles with me…. 
During the cast and crew party for The Addams Family, two campers went above and beyond to show their gratitude and stayed late to make sure that Cabana was cleaner than how they found it.
This Unit C camper always makes sure to thank the dining staff and recognizes even the tiniest acts of kindness. She knows that saying thank you will make someone feel good.
Another Unit C camper is always respectful by saying thanks to counselors. After getting her dessert even if it's only a little, she rejoices in her portion and doesn't ask for more.
These CITs are always enthusiastic and take part in all opportunities given to them. More importantly, however, they always take the time to thank their peers and counselors for presenting them with these opportunities and challenges. They make it a point to express their gratitude on a daily basis.
I am truly filled with gratitude when I look around camp and see these amazing campers!
Shabbat Shalom!
Alicia
[bq_color]
Today's Birthdays

Happy UN-Birthday, Everyone!
[/bq_color]
Today's Menu
[table "" not found /]
Today's Weather

High: 88°F | Low: 71°F
Really, really nice, sunny day!