Airy Blog
Director's Blog – August 11, 2017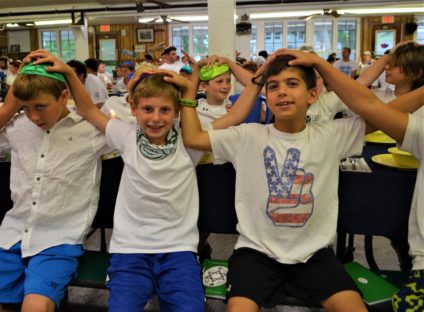 "With a Little Help From My Friends"
Tonight's Shabbat at Camp Airy was something I could not have foreseen. It was an historic night. Pardon my hyperbole, but no one in camp had ever seen what was about to happen. Dating way back to the last millennium, the final Friday of the summer had been the midpoint of the August Camp Airy Olympics. We paused Olympics, everyone (including the Green team) donned their Shabbat whites, and we kicked off Shabbat. Then camp would jump back into Olympics later in the evening, pause again the next morning, and so on until the end.
This past offseason, our leadership team proposed a change in which we would wrap up Olympics before Shabbat. Here was the thinking, in a nut-free-shell: Olympics and Shabbat at Camp Airy are two great things. Mixing them was alright, but it felt disjointed at times. We envisioned a a final Friday that looked like:
Olympic All-Star games
Snack
Tug-o-War
Lunch
Rest Period and Pool
Showers
Shabbat – services, dinner, song session, dancing
Campteen
Movie Night
Way to go team! Olympics had a nail-biter ending – Congrats to General Leo and his green team. Friday evening festivities were filled with ruach. Five staff on guitars, plus one more on a djembe drum, played the music while the whole camp sang and danced. Israeli dancing continued to be a Friday favorite. After a campteen visit, everyone settled into their chairs and benches for movies.
As everyone put their keppe on a pillow for lights out, I know they were looking forward to a late wake-up on Saturday, a much anticipated Shabbat service led by our 2017 CITs, and even the mixed emotions of playing and packing throughout the day.
Oh, and about the picture. Just too cute, right?
Shabbat shalom,
Marty
Today's Birthdays
David
Eli
Jonah
Today's Menu
[table "" not found /]
Today's Airy Weather

High: 73°F | Low: 65°F
Sunny in the AM, Rainy in the early PM, Overcast and dry for the evening.