Airy Blog
Director's Blog – August 13, 2016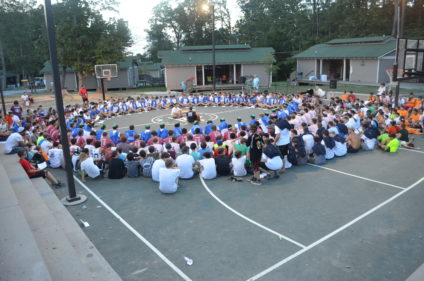 When families reunite this morning at camp, the story most often told might include a line like "Yesterday was really hot and it rained and we had a ton of fun and the White team won Olympics and we ate really good pizza." And that's true. The weather did play some games with us on both Friday and Saturday – Olympic events were rearranged, including a unique closing tug of war that occurred right before dinner. The weather also forced the cancellation of our Counselor Show, a musical-comedy wrap up. After the rains cleared, there was Rocky's, so it was all good – Sababa!
Beneath the story of rain and hot weather – and the return of chicken wings at dinner – is the story told by today's picture. All of Airy, gathered together on Village Row, for the summer's final Havdalah. Our CITs, the innermost circle of people, hold this particular Havdalah as special because it marks the end of their camper careers. The CITs each make a book donation to the camp library, and the group shares a song that holds sentimental meaning to them.
And there are tears – not just from CITs, but from lots of people. A summer at Airy is special. You head home after three or five or seven weeks with different relationships than you started with. We have all made a new friend, or found a new mentor, or learned something about ourselves. We hear time and time again that at camp, a success is sweeter, and a failure stings less, than at home. The support network of bunkmates and counselors and out-of-bunk staff is strong. The tears are a reminder that camp and the people here are one of a kind.
On Sunday, we will have lots of high fives and handshakes and hugs. Campers will head home, and a few hours later staff will head home too. And then we get down to the business of planning for Summer 2017. Thanks for sharing your sons with us – we hope to see you (and the boys of course) here next summer.
Marty
Today's Birthdays
none
Quinn – Sunday
Today's Menu
[table "" not found /]
Today's Weather

High: 100°F | Low: 81°F
HOT