Airy Blog
Director's Blog – August 2, 2017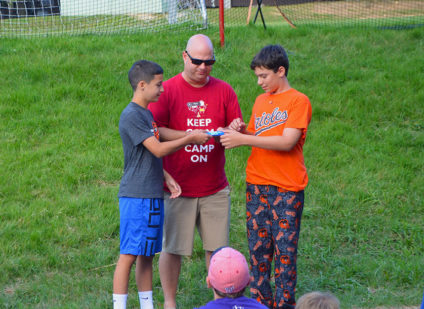 "What's Your Story?"
Some good things become great when you combine them together. Like french fries and Old Bay seasoning. Like a pancake with chocolate chips. Like a summer evening breeze and a porch with a view. Along those lines, let's play our favorite blog game – "Caption This" with this summer's theme "What's Your Story?" Check out the blog picture and please play along at home. Some ideas we have are:
The very handsome adult in the picture is showing the campers pictures from when he used to have hair. The camper in the very cool pajama pants thinks "You got us out of bed for this?" The other camper simply says, "Just gimme the pop tart already …"
The camper in the foreground, a nice enough boy but wearing an unfortunate hat, is secretly hoping that the three people handling the pop tart fumble it forward. Not pictured – the rest of camp waiting for the end of our "Go Motzi" so they can sprint to the dining hall. After all, who doesn't love breakfast?
These three people, all very intelligent as evidenced by their choice of favorite baseball team, are discussing and diagramming a stealth approach to the breakfast buffet. "You go to the cereal bar and pretend to stub your toe. When everyone turns to see the commotion you cause, we'll use the ole' end-around to get to the front of the line." The campers, clearly in cahoots, shake their heads disapprovingly and remind the bald man "It's a buffet. It's all good. Sababa!"
Hamotzi lechem min haaretz … Amen – Let's eat!
Marty
Today's Birthdays
none
Today's Menu
[table "" not found /]
Today's Airy Weather

High: 80°F | Low: 67°F
Sunny, Cloudy, Rainy, Sunny.