Louise Blog
Director's Blog – August 2, 2017
ISRAEL'S OPEN GREENHOUSE COMES TO CAMP LOUISE
This past April when I was in Israel at a training seminar for our Shlichim, Executive Director Jonathan, Director of Airy Marty and I went to visit Ein Shemer Kibbutz. We met with some educators there to learn about their Open Greenhouse and to talk about bringing this project to Camps Airy & Louise.
Fast-forward to the summer and the Open Greenhouse is in full swing. Our Greenhouse specialists shared their vision with me – to foster a passion and interest in the environment through creativity and experimentation.
There are five stations that campers can rotate through at the Greenhouse:
1. At the hydroponics station, campers can grow plants with minimal water and soil. The water recycling system reuses water and nutrients. Through creativity, we have the opportunity to plant in different ways – not in the ground.
2.  At the algae wall, we experiment with growing algae by filling a bottle with algae water. This station teaches all about experimentation. It has been very interesting to see what the campers choose to put in or take out in order to help make the algae grow. They have used glitter, paint, bubble solutions, sticks, adult algae, leaves, pond muck, and so much more!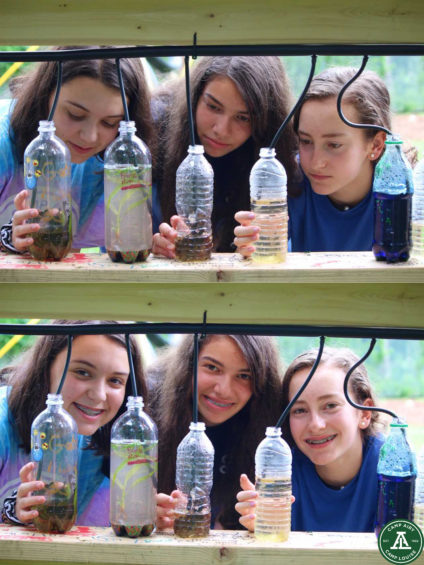 3. At the essential oils station, campers make their own balms for everyday use – sunscreen, lip balm, mosquito repellent,         and acne cream just to name a few!
4.  The green wall teaches all about drip irrigation, which is an important feature of the Open Greenhouse in Israel. Each camper (and director!) can decorate a recycled bottle and then fill it with soil. We then get to pick a plant from anywhere in the Greenhouse to place in the bottle. The bottles are strung onto the fence in a line so that the water drips down into other bottles below until it finally gets down to the final pipe – finishing in a hydroponics system that ends up feeding other plants in the Greenhouse.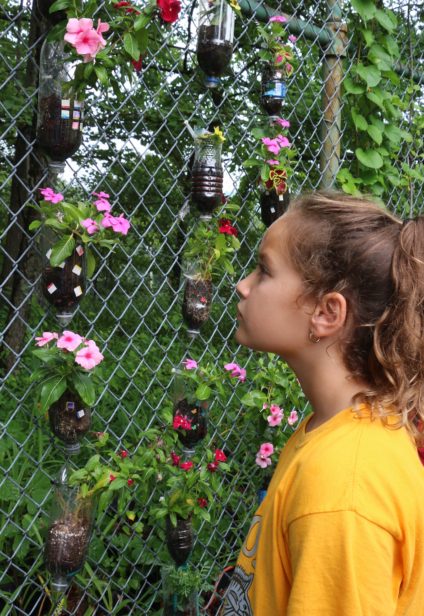 5. The last station is the pond, which is essentially a little contained ecosystem of plant matter, decaying plants, fish, frogs, tadpoles, larvae, etc. The roots dangle down into the water and eat the decaying plants, which are fertilized by fish and frog waste, which then clean the roots and plants above the water.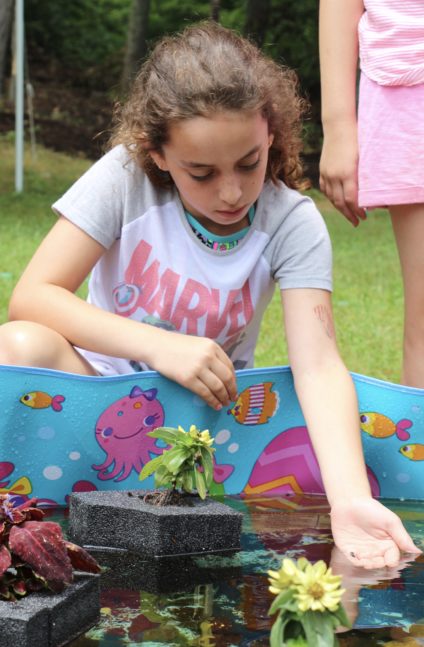 When campers come down to the Open Greenhouse, they are often skeptical – thinking it will be very school-like. Once they experience it, they are truly inspired. Words we often hear as campers leave an activity at the Open Greenhouse: "fun…exciting…interesting!"
What a success!
Alicia
[bq_color]
Today's Birthdays

Audrey – Bunk 28
Maya – Bunk 36
Izzy – Counselor
Joel – Grounds
Eric – Security
Brian – Security
[/bq_color]
Today's Menu
[table "" not found /]
Today's Weather

High: 84°F | Low: 65°F – Some afternoon rain – but that never stops us from having fun at camp!