Airy Blog
Director's Blog – August 2, 2018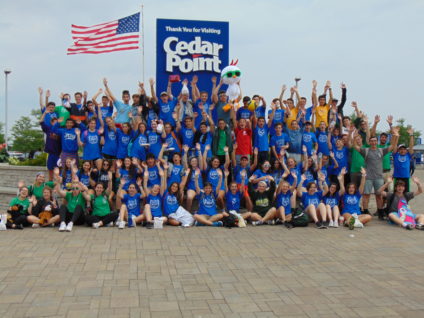 "Who's the Moosiest Moose We Know?"
Is is just me, or does this picture of the Airy and Louise STs at Cedar Point amusement park remind you of the movie "Vacation?" (I should mention that the answer to the song lyric question above is "Marty Moose.") While inclement weather necessitated some alterations to the CIT and CA overnights, our STs had a merry trip to Ohio.
The ST trip to Cedar Point is one of several "signature" activities that we have added for specific age groups. The reasoning is simple – to provide campers with even more "wow" and "awesome" during their session, and to give campers something to look forward to down the line in future summers. These activities and trips are in addition to the Airy-Louise events that happen all throughout the summer.
The 2018 slate featured:
> 4th and 5th graders going to Fort Ritchie for time on the water rafting and kayaking
> Unit B working in model rocketry and wrapping up with a launch party
> Unit C silk-screening their own t-shirts in Creative Arts; a trip to see the Frederick Keys; graduation from Junior Camp
> Unit D having a not-quite-all-nighter in the gym with sports, games and a SURPRISE … ask your Unit D camper
> Unit E going to Players Fun Zone for a closed-to-the-public evening of laser tag, putt putt, batting cages and more
> Unit F … two words sums it up – CUNNINGHAM FALLS; graduation from Senior Camp
> STs go on the aforementioned trip to Cedar Point, and to Sandy Springs Adventure Park
> CAs have their overnight, as well as a trip to Dorney Park
> CITs have their overnights (plural), and a bushel of surprises that I won't mention in this space, as summer is not over yet. I can report that our CITs did us loud and proud with July 4, and CIT Day, and so many other places around camp. I'm looking forward to their special final week.
When I look at this list, and then thrown in some of the optional pieces that we offer like water trips, and the Broadway trip, and pop-up ideas that come up every summer, I wish there were more hours in the day. Can there be such a thing as too much fun? It will be neat during the offseason to look at camper, staff and family feedback for ways to make these trips and experiences better and better.
Marty
Today's Birthdays
Zac – staff
Today's Menu
[table "" not found /]
Today's Airy Weather

High: 78°F | Low: 70°F
AGAIN … Back to the broken record forecast – It was wet, it was dry, it was wet, it was dry …!