Airy Blog
Director's Blog – August 2, 2019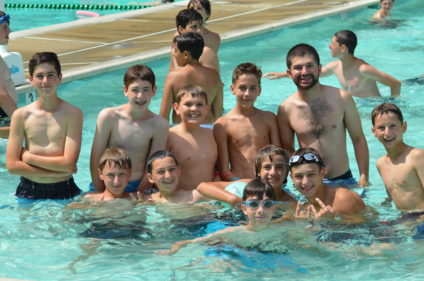 "Fabulous Pool, Fabulous Splash"
Blog readers with a certain musical taste (or a 15 year-old daughter) might recognize this lyric as one sung by Sharpay Evans in "High School Musical 2." The song title is "Fabulous," and it's perfect for today's picture. Free swim, at the Camp Airy Pool, on a sunny day with friends, is fabulous indeed.
Pictured in this pool pose are campers and staff from Unit E, our rising 8th graders. I happen to know a bunch of these people pretty well, and I've known some of their parents for a long time. Some attended Airy and Louise once upon a time. They might not be HSM fans, but I'm sure they'd agree that many of the film trilogy's songs ring true about camp:
"We're All in this Together" – in a nutshell (but of course no nuts in camp besides peanut butter), this is camp. We emphasize values like hospitality and partnership, looking to recognize campers and staff who welcome new people, seek to support those in need, and work in a team setting.
"The Boys are Back" – this a common sentiment every summer, as bunkmates eagerly await to see who is in their bunk and unit. The same applies for staff. Of course, technology makes keeping in touch easier – nothing like when I (we?) were kids waiting for 9pm and lower rates for long distance phone calls. I wonder how many miles camp families travel in the off season to bring friends together for sleepovers, reunions, Bar Mitzvahs, etc.
"What Time is It?" – This question, although rhetorical (the answer is "summer time," obviously), is a reminder of our screen-free, home-away-from-home. While there are some wrist watches to be seen, campers move about their day bell to bell. Other answers to the "What Time is It?" question could include "find your inner awesome time," "time for Campteen," and the always-funny "time to get a watch."
As we head into Shabbat Saturday, we will be recognizing Mensches on Benches for the value of "respect." It makes me so proud to see the mensch nomination box overflowing with suggestions. Do we have more worthy mensches than we have seats on the bench? As HSM reminds us, "Bet On It." Shabbat Shalom.
So long until the next blog,
Marty
Today's Birthdays

Charlie
Zac – staff
    BLOG SPOTLIGHT – Camp Airy Rookies

And just like that, our Week 2 Rookies are wrapping up their Airy experience. When we think of these rookies, we think:
R – Ready for anything
O – Outrageous
O – Outgoing
K – Kind to each other
I – Incredible
E – Excited every day
S – Super Campers!
Airy's Rookie program is unique when compared to others for one main reason. While other Rookie programs run after all other campers have departed for the summer, Airy (and Louise) Rookies participate in full-fledged camp. So the taste of camp they get in their week at Airy is authentic to what they will (hopefully) experience next year as a two- or three- or four-weeker.
We are thrilled to have spent these two sessions with our Airy Rookies. We can't wait to see them next summer! Special thanks to Lauren and the counselors – Coby, Cody, Jason, Sean, Ofir and Josh – for doing a great job.
~Lauren, Rookie Division Head
Today's Menu
Breakfast , Lunch , Dinner
Egg Skillet | Veggie Sausage | Mini Bagels | Cereal | Fruit | Yogurt , Cheese Quesadillas | Beans and Rice | Tortilla Chips | Salad Bar | Pasta Bar | Chocolate Milk , Matzoh Ball Soup | Challah | Baked Chicken | Asparagus | Potato Latkes | Salad Bar | Pasta Bar | Fruit Cobbler

Today's Weather

High: 86°F | Low: 69°F
A mostly sunny, pleasant day – with a brief interlude of storm procedures in the afternoon.