Louise Blog
Director's Blog – August 2, 2019
MIDDAH OF THE WEEK
What you want
Baby, I got it
What you need
Do you know I got it?
All I'm askin'
Is for a little respect
Can you guess what our Middah of the Week was….you got it!
R-E-S-P-E-C-T!
Find out what it means to me!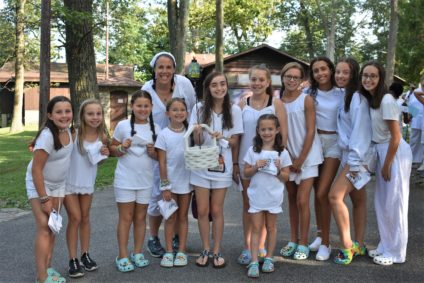 We had SO many nominations this week. Here are some of the reasons this week's candle lighters were recognized:
This Unit A camper is a joy to have in the bunk and is extremely respectful all around camp. Whether she is picking up trash that isn't hers or offering help and comfort to a friend, she is always respectful and kind.
These 2 Unit A campers have both consistently shown respect towards the counselors and all staff. They are always the first ones to stop and listen when a counselor is speaking and they always remember to say please and thank you.
These 2 Unit B campers spent one evening making bracelets for as many Rookies as they could before they went home last week. The respect they showed to the Rookies made the counselors so proud of them!
This Unit C camper always listens to directions, offers to help her bunkmates, thinks before she speaks, and goes out of her way to be respectful to campers, counselors, and all staff members.
This Unit E camper shows so much respect to her bunkmates and counselors during group discussions. She always shares her opinions with respect to everyone involved.
These Unit F campers are friends and bunkmates. They are respectful to the environment and our camp greenhouse. When we had greenhouse as a choice, they were really interested in the green wall. They fixed it up, cleaned the hose nozzles, added a new row of water bottles with plants and talked about sustainability. They even stayed at the greenhouse during bunk time to continue improving it.
This CIT has been respectful consistently throughout the summer, being kind to everyone she interacts with at camp, and acting as an excellent role model around camp. She has exhibited the middah of the week by listening to her counselors and communicating respectfully with her peers around camp.
Shabbat Shalom!
Alicia
Today's Birthdays

Jayden – Bunk 16

Audrey – Bunk 35

Maya – ST

Eric – Security

Bryan – Security
UNIT SPOTLIGHT – Unit F 

This morning, Unit F started Secret Pals! Each girl picked a name of a member of the unit out of a bowl. For the rest of the session, they will "secretly" give their person gifts, such as a nice note, bracelet, or maybe even canteen! The girls will have to work together with the bunks in the unit in order to make sure that their person is receiving the gifts. Secret Pals is giving the girls more opportunities to get to know the members in different bunks while also practicing kindness! I can't wait to see what everyone comes up with.
Alyssa – Unit F Unit Leader
Today's Menu
Breakfast, Lunch, Dinner
Scrambled Eggs | Cheese | Meatless Sausage | Oranges, Panera Lunch | Bread Bowls | Assorted Soups | Veggie Chili | Hearty Vegetable | Broccoli and Cheese | Assorted Salads | Summer Salad | Caesar Salad | Greek Salad | Salad Bar | Pasta Bar, Shabbat Dinner | Grape Juice | Challah | Matzoh Ball Soup | Chicken | Oven Roasted Potatoes | String Beans | Salad Bar | Pasta Bar
Today's Weather

High: 82°F | Low: 66°F – A gorgeous day with a brief mid-morning rain