Airy Blog
Director's Blog – August 3, 2015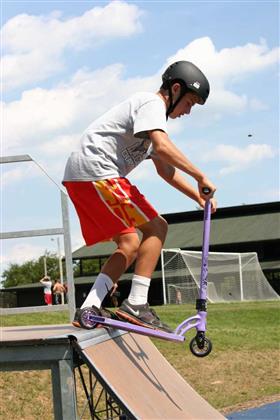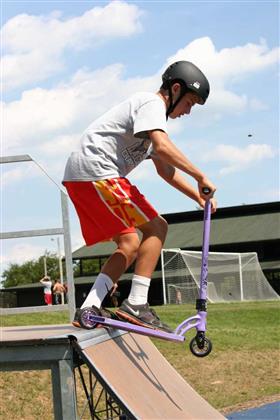 Earlier in the summer on a drop off day, I met a dad named Todd. Todd and I were conversing, and he mentioned that he works in the field of extreme sports. He offered to send to camp a few scooters that could be used on Airy's new Skate Park. I thought to myself, "Scooters? Really? Like the kind the kids ride around the cul de sac in my neighborhood?" Skeptically, I said "sure." About a week later, the scooters arrived.
These are not your run of the mill neighborhood scooters. As you can see in today's featured image, these scooters are rough and tumble enough for kids of any size, and for ramps and twists and turns. The scooters are a popular new attraction – and an accidental one at that. On second thought, maybe it's not so accidental at all. Let me explain.
Airy (and Louise) are unique in that we invite parents and families to camp on drop-off and pick-up days. Many other camps do not follow this practice. Airy parents get to meet their child's counselors and speak in person with any and all of the staff who will be involved with camper care. From my perspective, I have the opportunity to walk and talk with all of the session's new arrivals. While a textbook might label it as "management by walking around," I prefer to think of it as trying to be available and in the moment. If Airy did not have a process for parents to come to camp on drop off day, and if I was not out and about walking, would I have had the conversation with Todd?
Let's go back a step further … as an Airy leadership team, we decided back in the planning season to relocate and refurbish the Airy Skate Park. Its new, prominent location downhill, combined with the eye-catching flag signage that greets a driver on their way into camp, certainly caught Todd's attention. Lucky? "Luck is what happens when preparation meets opportunity." I'll take it … it's worked for 91 summers so far!
Today's Birthdays
Adam – counselor
Today's Menu
[table "" not found /]
Today's Weather

High: 91°F | Low: 63°F

A beautiful camp day – yet again!
Marty Rochlin
Director