Airy Blog
Director's Blog – August 3, 2015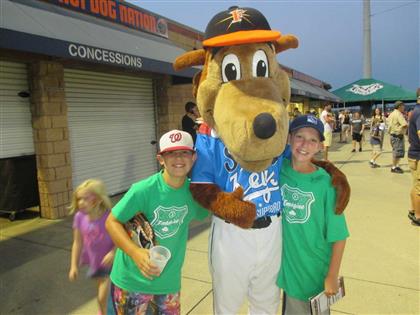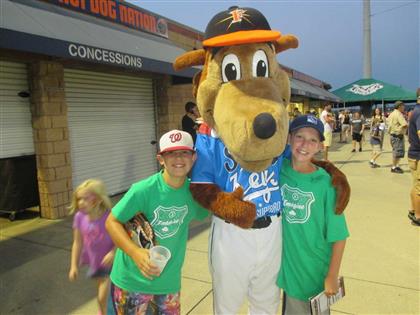 Frederick County, Maryland, and our summer home of Thurmont, have been gracious hosts to Airy for decades. Over the years we have built relationships with a number of local establishments, and those relationships directly benefit campers and staff. Most notable is Rocky's Pizza, whose owners Tony and Tina have been making pizzas for Airy bunk parties for more than 20 years. We regularly take campers on trips to Cunningham Falls, the Thorpewood Equine Program, and local orchards. For dozens of years, Airy held its end of the summer staff banquet at the historic Cozy Restaurant. When Airy puts on its superb fireworks shows, credit must go to the Thurmont Volunteer Fire Department / Guardian Hose Company.
(And I'd be remiss if I didn't mention Sheetz, a staff member go-to place for snacks during time off, and a popular pit stop for families on their way in and out of camp.)
Another partnership that has been rekindled recently is one with the Frederick Keys. Three times this summer, we have visited the friendly confines of Harry Grove Stadium to enjoy an evening of minor league baseball. The most recent trip was for our Unit C campers, in celebration of their upcoming "graduation" from Junior Camp into Senior Camp. Unit Leader Josh and Division Head Melissa pulled out all the stops for this trip – travel to and from the game via vans, a coupon for dinner at the ballgame, and a fireworks show at the end! And the cherry on top? The Keys won the game against the Pelicans, 4-3.
This summer, for the first time, the Airy end of summer staff banquet will be held on the campus of Mount St. Mary's University. This new opportunity to be an engaged community member is special, and is something we strive to practice and model for our young men at Airy.
Today's Birthdays

Nathan O.
Today's Menu
[table "" not found /]
Today's Weather

High: 90°F | Low: 59°F

A beautiful camp day!
Marty Rochlin
Director