Airy Blog
Director's Blog – August 3, 2016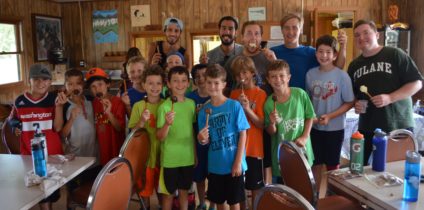 How SWEET it is! Airy campers and staff are in a chocolate paradise this week, as we are fortunate to once again welcome "The Chocolate Lady" Aileen to the mountain. Aileen, and her trusted assistant (and mom) Annette teach audiences about chocolate. Then, the yummy happens. Campers get to make, and later eat, their chocolate creations.
That's part of the story. The rest of the story is this – Aileen's son and daughter attend Airy and Louise. So, three generations of the family are at camp together. In Camp's 90+ year history, there are dozens – perhaps hundreds – of multigenerational camp stories. On a personal note, my family has three generations represented at camp this summer. My father volunteered on staff during Week 1, and our daughter attends Louise as a five-weeker. My wife Pam is on staff too. Maybe it's in our genes – my grandfather on mom's side used to be a camp doctor back in the day. Four generations!
The multigenerational Airy-Louise story truly is amazing. It never gets old on a camp opening or closing day, getting the chance to talk to dads and moms (and grandparents too) about their own time as campers. We swap stories about camp then-and-now. During our camper-in-traning day back in July, parents and grandparents took a stroll down memory lane as they walked around our uphill area. A little while later, many had a taste of "new" Airy when they took a ride on MegaZip and zoomed around in the Go-Karts.
Which of the campers and staff in the chocolate portrait might be in the multigenerational conversation? It would be cool if everyone in camp had their own "baseball card" with statistics on the back. Instead of batting averages and stolen bases, the card would feature years in camp, bunk numbers, and the names of cousins, parents, grandparents, etc.
And as I figure that out, I think I'll snack on some chocolate.
Marty
Today's Birthdays
None
Today's Menu
[table "" not found /]
Today's Weather

High: 85°F | Low: 64°F
Sunny and beautiful!