Louise Blog
Director's Blog – August 3, 2018
MIDDAH OF THE WEEK – RESPECT/KAVOD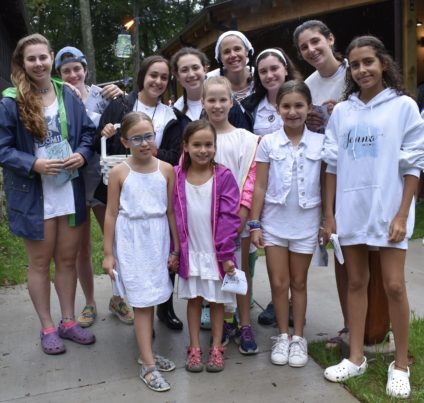 Our Middah of the Week is respect/kavod. This is a biggie. We talked about the obvious – respecting others, but what about respecting the environment and respecting ourselves – all are so, so important!
In The Daily (our newsletter that goes out each day in the Dining Hall at breakfast), it discussed the following:
Once each day, notice yourself doing something good or doing something well. Take some time to honor yourself for that!
Choose one 30 minute period during the day to find something you can respect in every person you comes your way.
Probably a good idea for all of us to try those activities!
I am guessing that this week's candle lighting nominees would have no problem with them!
Check out why they were nominated:
Respecting her counselors and bunkmates
Respecting everyone's possessions
Always following directions
Always including everyone
Trying all activities even if they aren't her favorites
Never interrupting others
Making sure all of her friends are involved and never alone
Respecting everyone's differences in the bunk
Spending time with all of her friends
Noticing when someone is left out and being a good friend to them
Being the first to volunteer when a friend needs help
Always hanging back to clean up after meals
Taking the time to learn the ways of camp
Meeting a lot of new friends
Helping a new camper learn the ropes of camp and being there for her to settle in
Always being nice to everyone
Constantly showing respect to their fellow CAs and to their counselors
Showing respect for their CA responsibilities around camp
Volunteering to help out at canteen even though it was not their night
Wanting to make sure that all campers were able to get their treats during a storm
Helping to reorganize the freezers in canteen
Staying calm, cool, collected, and respectful in a potentially stressful situation
Middah Girl is so proud of all of our campers this week for showing respect! Way to go!
Shabbat Shalom,
Alicia
[bq_color]
Today's Birthdays

Emmy – Bunk 16
Yasi – Bunk 19
Tory – Bunk 24
Ryane – Bunk 29
[/bq_color]
Today's Menu
[table "" not found /]
Today's Weather

High: 79°F | Low: 70°F
Cloudy…rainy….dry….rainy….dry….rainy….you get the picture