Louise Blog
Director's Blog – August 3, 2019
LOUISE LENDS A HAND
In Jewish tradition, visiting the sick – Bikur Cholim – is one of the ways we humans are able to emulate God or "walk in God's ways." (Babylonian Talmud, Sotah 14a) We learn that when someone visits a sick person, 1/60th of the illness is removed (Babylonian Talmud, Bava M'tzia, 30b). It doesn't cure a person to have someone care, but it does help them feel better. When we visit our friends, family or even strangers who are struggling with illness, we bring them comfort and strength. We let them know that they are not forgotten, not alone in the difficulty. For children who are sick, the need for love, caring and companionship can be even greater, but they may also be able to take comfort from things that adults might not.
Ari's Bears is an organization begun by Ariella Stein, a Louise camper who this year died following two years of treatment for cancer. Evie, a friend of Ariella's shared some thoughts with us today:
"The organization Ari's Bears was started by a sweet girl named Ariella. Ariella was kind, funny, adventurous, and a warrior. She was diagnosed with Ewing's Sarcoma (cancer in the bone) at the age of 9. Although she was faced with this enormous obstacle, she never let it stop her. She continued going to school, to dance, hanging out with friends even through her treatment. Every time she finished a treatment, she would earn points that she could eventually cash in for toys, gift cards, etc. Rather than getting something for herself, she would get Build A Bear gift cards. Ariella made bears to deliver to other children in the hospital to make them smile. This is what gave her the idea to create Ari's Bears. Although she passed away in May, her legacy will live on through the beautiful organization she created. I know I, along with many people in this room, are so blessed to be able to call her our friend."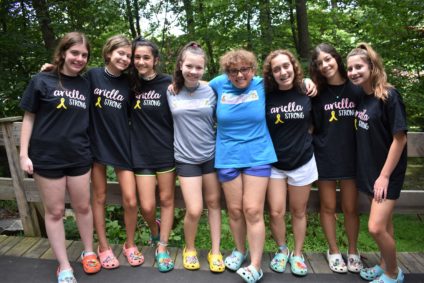 Describing the origins of Ari's Bears, her parents say this, "Ariella was diagnosed with Ewing's Sarcoma in her leg at 9 years old. When in treatment, she received many packages and goodies from various organizations to get her through the tough days. This inspired Ariella to start Ari's Bears, to give bears and other stuffed animals to children in hospitals. She has since hand-delivered many bears to children in local clinics and hospitals as well as mailed bears out of state."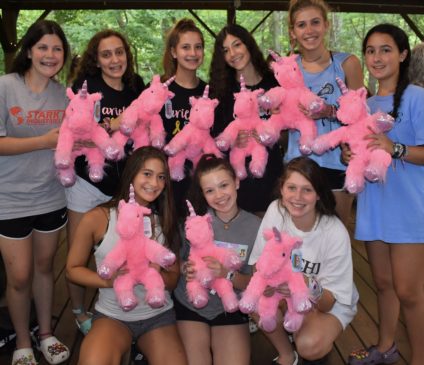 This Shabbat during Louise Lends a Hand, in addition to preparing 400 burritos which will be donated to the Thurmont Food Bank, about 50 campers made stuffed unicorns to donate to Ari's Bears. Many of the girls who made unicorns went to school and dance with Ariella or through community connections are familiar with her family. Doing something tangible to share their compassion with another child serves not only the one who is sick, but gives well kids a chance to be the best version of themselves.
In a letter to us, Evie said, "Thank you so much for doing this. It truly is so meaningful to so many people and I am so happy to go to a camp with this level of community."
Evie, we are so proud of our community too!
Alicia and Rabbi Elissa
Today's Birthdays

Julia – Bunk 21

Emmy – Bunk 18

Yasmine – Bunk 20

Tory – Bunk 29

Ryane – Bunk 35
UNIT SPOTLIGHT – CITs 

The CIT's have a lot of work that is done during week six. They write their speeches for the CIT campfire ceremony, they put together an entire Shabbat morning service, and they prepare to enter a week of lasts: the last folk dance, the last cab night, the last time they will be together as one big group. This brings a lot of time when the CITs must find their inner leader to plan and facilitate large scale events; however, with the stress of the summer ending, the sixth week can often turn into the sixth week slump for the CITs. While this might be the point in the summer where the sleep deprivation becomes unmanageable and emotions are running higher than usual, it provides an opportunity to reflect on what is learned from the sixth week of camp. We have used the
slumpiness
to discuss ways that CITs can practice better self-care, communicating when working in a team, and anticipating life's transitions. We often remind our CITs that camp is one of the best places to learn how to fall and learn how to get back up. It is a safe space where kids and teens can make mistakes, reflect on what they've learned, and how they will improve in the future.
Kooz – CIT Unit Leader
Today's Menu
Breakfast, Lunch, Dinner
Scrambled Eggs | Bagels | Berries, Cheese Quesadillas | Salsa | Sour Cream | Red Beans & Rice | Sauteed Veggies | Salad Bar | Pasta Bar, Turkey Meatball Subs | Fries | Broccoli | Cauliflower | Salad Bar | Pasta Bar
Today's Weather

High: 84°F | Low: 67°F – A day mixed with sun and rain and sun and rain!