Louise Blog
Director's Blog – August 4, 2016
Picture Perfect!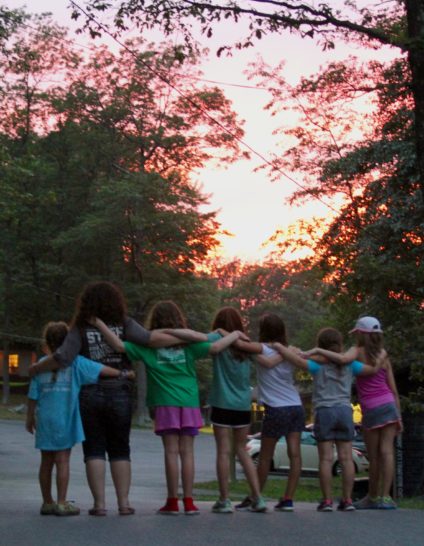 How often do we take the time to stop and watch a sunset?
These campers and counselor were walking back from evening activity and they noticed the gorgeous sunset. When I talked to them about it, they told me it was magical…so beautiful….the colors…the way the sun was setting through the trees…being together…being so present in the moment. They stopped to look at it and they walked backwards so they could continue to watch it. They couldn't look away. It was simply picture perfect!
How many times in our lives do we miss these moments? It is so easy to be busy and not see that beautiful sunset or that smile on a child's face.
In our screen-free environment here at camp, we savor these moments. We notice them. We are present and engaged with each other. It is one thing that makes camp so incredibly special.
Take a break from checking email, updating your status on Facebook, and living life behind a screen. Enjoy nature and people and living in the moment. It will be well worth it!
How can you look at this sunset and not want to be present and fully engaged in each and every moment that we have – surrounded by the people we love and care about the most!?!?
Alicia
[bq_color]
Today's Birthdays

Josie – Bunk 12
Samara – Bunk 19
Jill – Staff
[/bq_color]
Today's Menu
[table "" not found /]
Today's Weather

High: 86°F | Low: 68°F – Gorgeous!