Airy Blog
Director's Blog – August 4, 2017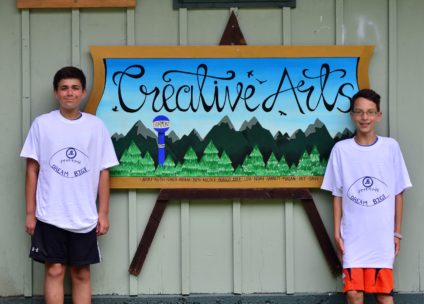 "On Fridays We Wear White (Shirts)"
The young men in this picture made the shirts they are wearing here at Camp Airy's Creative Arts department. They made one for me too, and tonight we all wore them for Shabbat. Creative Arts at Airy, led by department head Nicole, provides opportunities for Airy campers to design, create and express.
The department has undergone some changes over the past two summers. With new equipment, strategic staffing, and a talented year-round maintenance crew, screen printing and wood shop have become bustling areas. Pottery and Rocketry were already taking shape and taking off, literally and figuratively. Some readers of the blog may remember the days of Arts and Crafts Downhill, and they will be happy to know that tie dye remains a popular activity. Every Tuesday, Nicole's staff tosses tie dye shirts to campers at morning line-up, doing their part to win the camp battle of Neon vs. Tie Dye. Staff and campers collaborated to make the sign in the background of the blog photo. They've got some talent down there.
The variety of options for campers to pursue at Creative Arts help Airy deliver on this promise – if a camper is adventurous, creative, or athletic (maybe even some of each), we've got good things for him. Not pictured, but also new and awesome, are the multimedia studio, the Parkour gym, and Quickball. Staff additions like David in the wood shop, Rodney on the skate park and Elijah in Parkour enhance a super mix of people and programs.
Thanks for the shirt, fellas!
Shabbat Shalom,
Marty
Today's Birthdays
none
Today's Menu
[table "" not found /]
Today's Airy Weather

High: 81°F | Low: 65°F
Sunny and warm all day