Louise Blog
Director's Blog – August 4, 2018
INTERNATIONAL DAY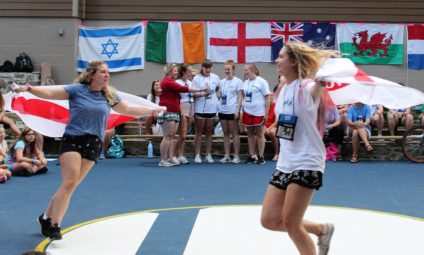 We are so fortunate to have so many internationals on staff! Today, like Phileas Fogg from the Jules Verne novel Around the World in 80 Days, our campers traveled around the world in only 80 minutes! Fogg and his companion Passepartout are pursued by a detective from Scotland Yard, Detective Fix – who feels that Fogg is somehow involved in a bank robbery. We followed the footsteps of these characters…
Our campers received a passport as they traveled to 9 different stations. Each station represented some of the internationals we have here at Camp Louise -England, Scotland, Wales, Ireland and Northern Ireland, Israel, Australia, The Netherlands, China and India.
Once campers completed the activities at each station, they received a stamp in their passport. Activities included: arts and crafts, songs, dances, face painting, and trivia. The goal was to get as many stamps as possible.
And what's a good trip without Travelocity? As our campers were on their travels around the world, they were on the lookout for the Travelocity gnomes that were hidden around camp. If the campers found a gnome, they won a prize because who doesn't love camp swag?!
This evening, the fun continued at the campwide International Show. This was where the international staff recreated the story of Around the World in 80 Days. Each country either did a song, a dance or taught us something about their countries.  They even had a Q&A session where many campers asked about language – how do you count to 10 or how do you say the days of the week in your country. It was a lot of fun as we all tried to repeat these words….with accents and all!
Some of the internationals took the time to let me know how they feel about being on staff at Camp Louise:
Sam – English:
"Being an international at camp is such an amazing feeling. You get treated no differently to a Homegrown and you instantly feel right at ease. Having the International Day specifically aimed at those that didn't grow up at camp makes you feel so special that you're in the Camp Louise family. This is my 5th summer at camp, and this year I got asked to help facilitate the whole day. It was one of the busiest but most rewarding day and I'm so glad we pulled it off."
Laura – Irish:
"This is my 2nd Year at Camp Louise and my second time having participated in the International Day. It is a great day because it is a day where we can show our countries' pride to everyone else at Camp."
Vital – Israeli:
"This is my 1st year at camp. I am so happy to be a part of International Day. It shows the campers a big variety of cultures and exposes them to new worlds and traditions. I hope more internationals will be a part of the Camp Louise family in future years."
We are so proud of our internationals and we feel so lucky to have them as part of our Camp Louise family!
And with that, I bid you….Cheerio (British), Oíche Mhaith (Irish), Laila Tov (Hebrew), Nos Da (Welsh), Oidhche Mhath (Scottish) Geode Nacht (Dutch) and a good 'ole plain Good night.
Alicia
[bq_color]
Today's Birthdays

Samara – Bunk 25
Josie – CA
[/bq_color]
Today's Menu
[table "" not found /]
Today's Weather

High: 89°F | Low: 70°F
The SUN was out all day!!!  It was fantastic!