Airy Blog, Louise Blog
Directors' Blog – August 4, 2019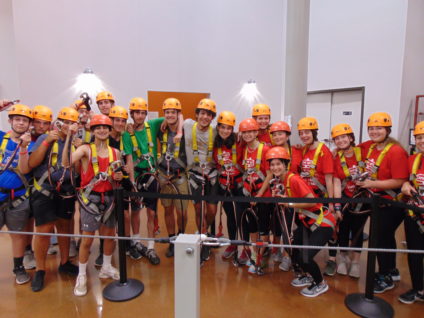 "Party In the USA …
… Specifically in Thurmont and Cascade and Allentown and Sterling! So many Airy-Louise gatherings … let's hop around the map to hear a bit about all of the trips:
The CAs spent the day at Dorney Park:
"Dorney Park—more like Disney World."
"Dorney was amazing, almost as splash-tastic as Wildwater Kingdom where we spent a lot of the day."
The STs spent the evening at Summit Ropes:
"Trip was fun – many different obstacles to climb."
Unit F gathered to celebrate Senior Camp graduation at Camp Louise:
"Graduation was a great fun way to bond with each other and to get us excited for ST summer. I'm excited for trainee themes and overnights."
"Tonight was a great way to hang out with Airy and Louise together and bond for future years. I'm excited to grow older with my friends and learn how to work with kids so I can be a counselor one day."
Unit E gathered for a Pool Party at Camp Airy:
"I was happy to see Airy & Louise have one last get-together at the pool, water basketball is cool!"
Unit D gathered at Camp Airy to practice their dance moves for the upcoming Bar/Bat Mitzvah season:
"Unit D arrived at the Airy Gym to the sounds of DJ Malps; before we knew it both units were playing Coke and Pepsi."
We think a day like this deserves to we wrapped up with a song like this, especially as our Air-Lou days are finished for the summer:
"Bye, bye, bye," ~ NSYNCH
So long until next blog,
Alicia and Marty
Today's Airy & Louise Birthdays

Emily
Samara
Josie
Today's Louise Menu
Breakfast, Lunch, Dinner
French Toast Casserole | Scrambled Eggs | Berries, Chicken Tenders | Fries | Corn | Salad Bar | Pasta Bar, Lasagna | Mozzarella Sticks | Breadsticks | Zucchini & Squash | Salad Bar | Pasta Bar
Today's Airy Menu
Breakfast, Lunch, Dinner
French Toast Sticks | Scrambled Eggs | Fruit | Yogurt | Cereal , Pizza Bagels | Waffle Fries | Broccoli | Salad Bar | Pasta Bar | Cookies , Gyro – Beef and Chicken | Rice | Couscous Salad | Cucumber Salad | Tzatziki | Shredded lettuce | Pasta Bar
Today's Airy & Louise Weather

High: 88°F | Low: 68°F – A perfect day at Camp to send off our Rookies and kick-off Week 7.