Airy Blog
Director's Blog – August 5, 2015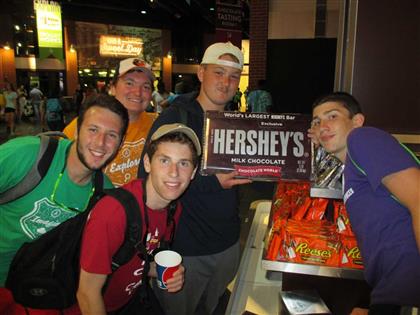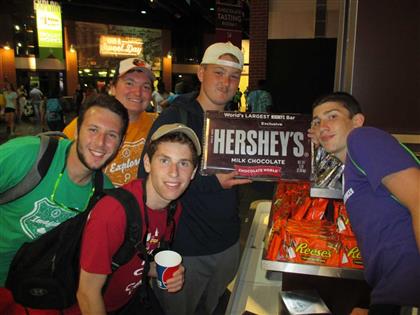 The "Aspirational Arc" is not another name for the big boat Noah built once upon a time. Rather, it's an idea that we keep in mind for much of what we program here at camp. What does a camper have waiting for him down the line as the camp experience moves from Rookie, to Junior, to Senior, and finally trainee camp? And going a step deeper, as each division has three units, what separates the first, second and third years?
In today's picture we see some of the CITs during their trip to Hershey Park. The trip was a surprise, twilight-admission chocolate trek. Last year, the CITs were surprised with a trip to Washington, D.C. to see a Mystics WNBA game. The point is not necessarily the destination, but rather the anticipation. What might be in store next summer? What other group might have a surprise just around the corner?
Here on campus, we lean on our department heads to design and deliver a program that is responsive to our campers' needs and interests – after all, we have young men ranging in age from 7 – 17. So basketball clinic when a camper is 10 will not look like the clinic for our 14 and 15 year olds. The outdoor adventure trips for our junior division are fun and exciting, and we up the complexity and challenge for our more experienced campers.
Tonight was another great example of the arc at work. Camp gathered at the Cohen Theater for "A Musical Happening" In this concert, the vast majority of performers are campers. Throughout the show, performers give "shout outs" to their bunks and units. And the crowd goes wild when they are mentioned. Campers see the interaction and feel the energy, and join right in for dancing and singing and cheering. This is where our campers set their sites on being on stage, or being in an older unit and being the most enthusiastic audience group.
The aspirational arc applies to staff as well, and there is no better example than Airy's Order of the Leaf. Last night, our third year staff members were inducted into a Leaf. They are pinned by someone who is already on staff. Some alumni came up to camp to participate. Everyone participating in the event from Leaf announces the year they were pinned. I proudly announced my "1994" after Marilyn Riffkin – who pinned me – announced her "1984." With all of camp staff in attendance, camp history is being written. Many staff begin to map our their personal plan to make it back to Airy for their Leaf summer. The more the merrier!
Today's Birthdays
None
Today's Menu
[table "" not found /]
Today's Weather

High: 88°F | Low: 64°F

One of the best camp weather days yet!
Marty Rochlin
Director