Airy Blog
Director's Blog – August 5, 2016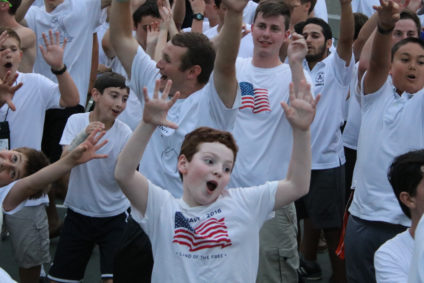 "Throw your hands in the air, and wave 'em like you just don't care …" It certainly is a party atmosphere when our camp community gathers on Village Row for a Shabbat song session. When our song leader Shy begins to strum on guitar, it starts a chain reaction. Counselors and campers quickly jump to their feet and the party is underway.
On this night, Shy was joined by Ben and Richard from the Airy music department, as well as several of Airy's Jewish Life staff. These staff bring guitar accompaniment, lead "repeat-after-me" songs, and as you see in the picture, coach the guys through an Israeli dance number.
There is another story to tell in this picture. You see campers and staff together. Junior division campers dancing with trainee division counselors. American counselors and Israeli counselors and British counselors moving in sync together. Our camp Shabbat observance – services together, followed by a family style meal, the song session, and later movies by division – emphasize community. When so many different kinds of people come together to mix and participate, we are reminded about what makes Camp Airy special.
Shabbat Shalom!
Marty
Today's Birthdays
Oren
Today's Menu
[table "" not found /]
Today's Weather

High: 79°F | Low: 72°F
Partly Cloudy, Mostly Dry