Airy Blog
Director's Blog – August 5, 2017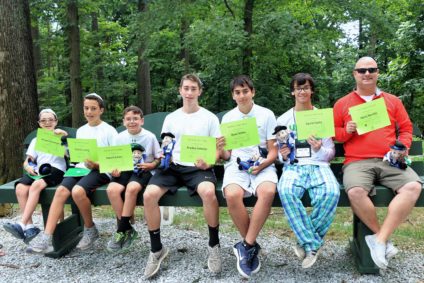 "Saturdays in the Park" (or the campfire site)
I suppose turnabout is fair play. Almost a year ago to the day, we managed to surprise our songleader and Jewish Life department head Shy with "Mensch of Week" recognition. Today, Shy pulled one over on me, as I was shocked to hear my name called to receive recognition for "respect." I was given my certificate, my bracelet, and took my seat next to the others on the mensch bench.
"What is a mensch," you may be wondering? A mensch is a person of high integrity and honor. A mensch is a stand-up guy. A mensch is a good person. Prior to respect recognition today, this summer we have also celebrated campers and staff for hospitality, courage, kindness, gratitude and leadership. If your son brings home a rubber bracelet with both Hebrew and English writing (and of course a camp logo), it means he was recognized for his standout behavior in our community.
In addition to the mensch recognition that took place at our Shabbat morning service, we also welcomed an Airy alum, Rabbi Bruce. Rabbi Bruce's connection to Airy started 60 summers ago. He shared:
"You are the living links between my Airy era and the one that will follow yours. You know what I know: that all those activities become uniquely Airy because they are done here with the Airy spirit and traditions, through countless Airy interactions, through every special or commonplace moment through each day, each evening, each week, season, year, decade of your connection to this place. It all matters….it really matters. And I tell you it will always matter."
What a special message for us to consider as we kick off the last week of the summer.
Marty
Today's Birthdays
Oren
Today's Menu
[table "" not found /]
Today's Airy Weather

High: 70°F | Low: 58°F
Gorgeous day with a slight chill here and there