Louise Blog
Director's Blog – August 5, 2017
MIDDAH OF THE WEEK – RESPECT/KAVOD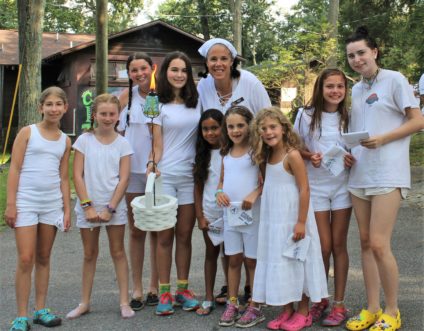 Our Middah of the Week was respect/kavod. During the week, we talked about the following:
Choose one of these to try each day this week:

Once each day notice yourself doing something good, or doing something well – honor yourself for that.
Choose one 30-minute period during the day to find something you can respect in everyone who comes your way.

We are taught in the Torah to 'Honor your father and mother.' Torah doesn't include a commandment to honor anyone else (though of course we should). Why do you think honoring our parents is important enough to be one of the commandments?
In our Shabbat morning service every week we read, "Who is honorable? The answer: those who respect others." Discuss with a friend why you think someone who respects others is worthy of respect herself.
There were so many campers who showed respect this week. These are just some of the reasons that campers were nominated to light candles with me on Shabbat:
This camper is always so respectful of her friends. She helps them without any hesitation and never stops smiling.
This camper is amazingly respectful of everything and everyone. She never needs to be asked to do the right thing and is always ready to help.
This camper is respectful of her counselors and bunkmates. She always listens the first time and she is kind and helpful to every bunkmate.
This week in the first red team meeting for Color Games, this camper and her friend both wanted to work on the banner. This camper gave up her spot to her friend because she knew it was so important to her friend. She is always showing respect towards her counselors and bunkmates. She often helps with chores even if they are not hers. She is always positive and she has a great spirit!
This camper is always respectful and kind to her friends in the bunk, counselors and the whole community. Inside the bunk, she respects her chores, times and different opinions between everyone. She is so amazing and humble and she deserves recognition.
This camper respected the earth by finding litter and encouraging others to clean up too.
At breakfast, Unit F was called last. They realized that there were no chocolate chips left. This Unit C camper came over to the Unit F table and offered her chocolate chips to them. It was like she was the chocolate fairy. She gave everyone who wanted some a portion of her chocolate chips. She was so willing to sacrifice things for others. This shows that she is such a respectful person.
This camper showed a lot of respect to the cookery department by volunteering to wash the dishes without being asked. She went out of her way to wash the dishes of campers that were not even in her group. She made a real effort to keep the kitchen clean. She also showed a lot of respect to cookery staff and to the cookery kitchen.
This ST constantly shows respect to her bunkmates, ST sisters, counselors and other campers. She also always goes above and beyond by showing appreciation when counselors plan activities.
Sing along with me (and Aretha Franklin) –
R-E-S-P-E-C-T, find out what it means to me!
What does it mean to you?
Shabbat Shalom,
Alicia
[bq_color]
Today's Birthdays – NONE

Happy UN-Birthday, Everyone!
[/bq_color]
Today's Menu
[table "" not found /]
Today's Weather

High: 78°F | Low: 58°F – Breezy, sunny, perfect day!