Louise Blog
Director's Blog – August 5, 2018
SO LONG ROOKIES….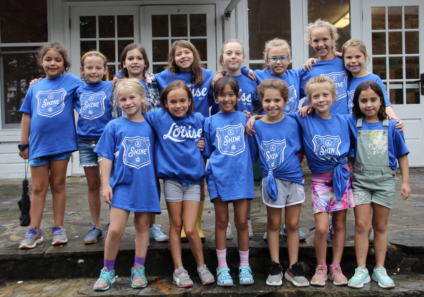 Rookie Campers are some of the most popular kids in camp.  They are here for a week, integrating them into the general camp program. We pack as much as we can into that week – activities, friends, and fun!  They develop independence and build self-esteem in a supportive, warm and caring environment. They come home happy, exhausted and maybe a little dirty.
Case in point from the quote I heard from Rookie Rivka:
We've done such awesome things today! I'm so tired.
Rookie Camp gives campers (and their parents) a taste of camp life and the goal is that we want them to leave wanting more! And by the look of last week's Rookies – many of whom were hiding from their parents on Pick Up Day, I think we did our job!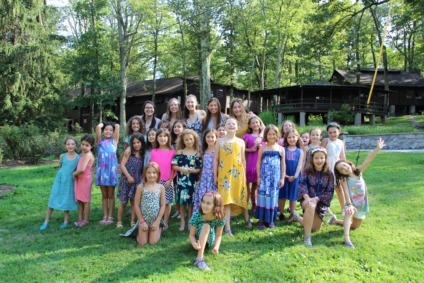 Out of the mouths of babes……they sure do come up with some great quotes.
One Rookie Chloe wrote a letter to her counselors: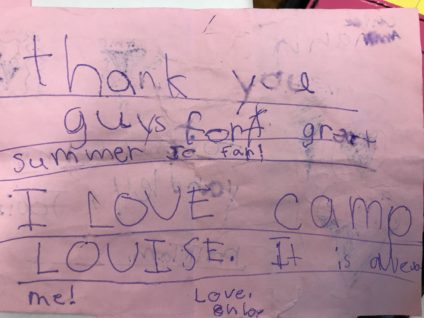 Chloe, I agree – camp is awesome!
Other comments I heard from some of our Rookies on their last day:
Alyssa – I just want to give you all a big hug!
Lia – Is this our last day?
Counselors – Yes.
Leah – Nooooooo!
Lauren – We are one big family, a bunk of sisters!
Alex (to her counselors) – Can you come home with me forever?
Mira – I want to stay during the school year so I never have to leave!

Alexa – I am signing up for 7 weeks!
And some of the best ones yet….
Julia – I'm gonna go sign up for next year right now. I'm coming back for 100 million centuries!
Ida – I want to stay for 100 weeks!
We can't wait to have our Rookies back in summer 2019!
Until then,
Alicia
[bq_color]
Today's Birthdays

Tezz – Kitchen Staff
[/bq_color]
Today's Menu
[table "" not found /]
Today's Weather

High: 92°F | Low: 72°F
Sunny and warm and breezy and gorgeous!