Airy Blog
Director's Blog – August 4, 2018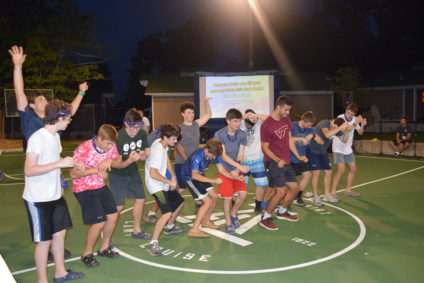 "Dance to the Music"
Camp Airy wrapped up its sixth week in strong fashion with the second annual "K-Airy-oke Dance Battle." Hosted by Airy's Mark Blackman, the contest pitted the "Mean Machine" versus the "Hotdog Heroes." Each troupe group competed for nine rounds – the premise was that a group be simultaneously dancing to the music AND singing along karaoke style. At the sound of a cymbal, one group would cease and the other would pick up the song while adding in its own dance moves. After a few cymbals, a round could be won if judges liked one group's singing and dancing more than the other.
The event was a blast. At one point in the staff round, one of the troupes coaxed Rachael to the dance floor where she proceeded to do "The Worm" … BACKWARDS. She later reported that the skinned knees were worth it. Another troupe dragged me out to dance. I'm 20 years removed from my "Worm" days, but in old school "House of Pain" style we jumped around, jumped around, jumped up, jumped up and got down.
And then in the blink of an eye, after the last round, the sing-and-dance party transformed into bunk circles for Havdalah. Our campers and staff are remarkable in how they can be so in the moment … and in diverse moments. On the darkened Village Row basketball court, the glow of candles set the mood for the circles to sing and sway. When we reached our "Goodnight Song," I took a moment to finish a story I had begun at that morning's Shabbat service. I shared that our family spent part Friday night at Camp Louise for Shabbat. It was warm and inviting and quite enjoyable … and not Airy. I'm sure Alicia and Camp Louise would agree – there's a different, special vibe when it's just the guys (or just the girls) together for an activity. We can be loud, silly, serious, or anything really. That's a feeling that comes along with being comfortable, being at home.
I'm so glad that Airy is a home to so many. On to Week 7 … wow.
Marty
Today's Birthdays
None – Happy Unbirthday to All!
Today's Menu
[table "" not found /]
Today's Airy Weather

High: 87°F | Low: 71°F
We. Saw. The. Sun. It was a beautiful day!