Airy Blog
Director's Blog – August 5, 2019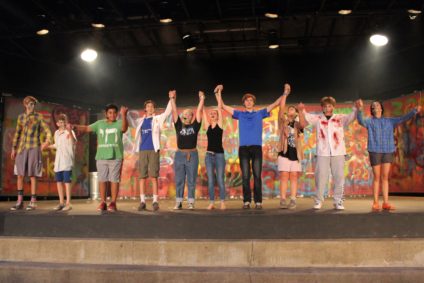 "Something Evil's Lurking from the Dark"
What could be better than a line from "Thriller" to welcome in tonight's guest blogger, Airy Drama Department Head Cody Riker?!?
Picture it! A Zombie Apocalypse with the undead at every turn! Is it the newest season of "The Walking Dead? No, it's the second session play by the Camp Airy Drama Department. Tonight we got to see Camp Airy's second session play "10 Ways to Survive the Zombie Apocalypse." The cast consisting of campers from both Airy and Louise has worked on this show tirelessly for the past two weeks. The comedic play tells the audience how to survive the zombie apocalypse in ten steps. It has been an honor watching these campers work extremely hard and also have fun! The best part about my job is watching the cast and crew come together and put on a hysterical show. The drama department at Airy is the place most of these kids spend their entire day, to many it becomes a second home. Tonight we got to say goodbye to two CA girls from Louise who completed their final Airy show before their CIT summer. Every single year kids come and go in the Airy Drama Department but one thing is always the same, the humor that we find and the memories that we make as a drama department are things that make the goodbyes hurt a little less and always make me think about the next show at the Cohen Theatre. Thank you to the entire cast and crew for all of your hard work and thank you to the entire drama staff for all of your work as well!
Cody Riker, Airy's Drama Department Head, signing off until next Summer.
Thanks Cody .. and so long until the next blog,
Marty
Today's Birthdays

Graham
Oren
Today's Menu
Breakfast , Lunch , Dinner
Scrambled Eggs | Pancakes | Cereal | Fruit | Yogurt , Grilled Cheese | Tomato Soup | Gold Fish Crackers | French Fries | Artichokes | Salad Bar | Pasta Bar | Fudge Pops , Chicken and Steak Fajitas | Tortillas | Peppers | Onions | Salsa | Guacamole | Salad Bar | Pasta Bar

Today's Weather

High: 87°F | Low: 69°F
A spectacular sunny day in 21788.