Louise Blog
Director's Blog – August 5, 2019
SPIKE!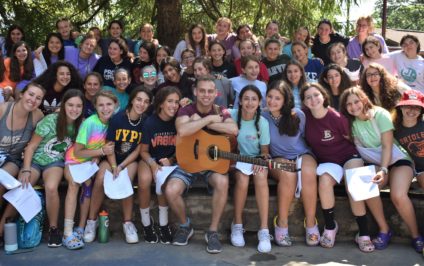 We had the pleasure of having a guest singer/songleader/educator join us this past week. It was only Spike's second summer with us, but he has become quite the icon! I spoke to some of the girls who participated in one of his inspiring song sessions. They told me:
It was amazing!
It is so fun to sing with your friends.
This song session really made us look at the meanings of the songs.
It helped us connect more to being Jewish.
We talked about welcoming Shabbat and connecting to Shabbat.
And it was fun!
I then spoke to Spike who told me how much he loves singing and being able to sing with others. He feels strongly about expanding the definition of Jewish song and music. In his song sessions, Spike likes to show different kinds of Jewish songwriting styles, and he uses Jewish texts to engage with music on a deeper level.
Spike shared an original pop love song that he wrote about the Shabbat bride. He pulled verses right form Lecha Dodi. Using imagery and metaphors that were written thousands of years ago, Spike was able to show that they are still meaningful today. Check out the lyrics to his song below.
One of Spike's goals is to use music to build community, and I can tell you firsthand that he has done that most successfully here at Camp Louise!
Sing on, my friends, sing on!
Alicia
PS Read more about Spike on his website.
waiting
Jacob Spike Kraus
Lecha Dodi
Wake up my heart; may the good Lord have mercy
Get up – the light of my life has arrived
Come out my Love to meet me in the valley
Put away your tears don't you cry
Love I've been waiting
Patiently waiting for someone like you
And it might sound cliché
But Love I've been waiting for someone like you
So go put on your beautiful clothes
That make you wanna strike up a pose
Come out – our time is at hand
And now it's amazing
'Cause I'm no longer waiting on someone like you
Forgotten are my sorrows and my worries
I only know you fill my heart with joy
Come on my Love I'm begging you to hurry
Together we will make a joyful noise
Refrain
Lecha dodi likrat kallah p'nei shabbat n'kabelah (2x)
Refrain
לְכָה דוֹדִ י לִיקְ רַ ת קָלַה פְּנ ֵי שָׁבַּתּ נ ְקָבְּלָה
Come, my Love, to meet the Bride; Come, my Love, to greet Shabbat
Today's Birthdays

Happy UN-Birthday!
UNIT SPOTLIGHT – CAs 

This evening was the first performance of the musicals at both camps. During second session, we usually do not go to the other camp too see their show. Although, the CAs were certainly in for a treat because we got to go over to Camp Airy to see their musical – 10 Ways to Survive the Zombie Apocalypse! 2 of the CAs are in the show, and the entire unit wanted to go support their friends. It was awesome to see how excited they were when they found out they could see their fellow CAs perform. They all had a blast and cheered so loudly for their peers. What a heartwarming night!
Jill – CA Unit Leader
Today's Menu
Breakfast, Lunch, Dinner
Breakfast Burrito | Hash Browns | Onions | Peppers | Cheese | Salsa | Sour Cream | Melon, Potato Bar | Mac & Cheese | Veggie Chili | Broccoli | Cheese | Sour Cream | Salad Bar | Pasta Bar, BBQ Chicken | Cornbread | Baked Beans | Potato Salad | Salad Bar | Pasta Bar
Today's Weather

High: 84°F | Low: 68°F – Sunny, cloudy, breezy – someone said the perfect camp day!