Louise Blog
Director's Blog – August 6, 2018
ADDAM'S FAMILY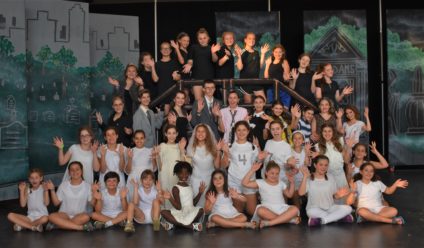 Tonight was super exciting for many reasons…..
It was Opening Night for this session's show.
It's the second big musical production performed in Jill's Place.
It's the first of what we hope will be MANY shows directed by our new drama specialist Michelle.
Presenting….
The Addams Family
I had the wonderful opportunity to spend some time with Michelle this morning. I asked her about her goals for the show. She really wanted the 32 campers (from Units A-F) plus the crew (campers of all ages including trainees) to have a good time while putting on a full-scale production in just 10 days. It sounds pretty crazy, but they did it!
Some of the campers came with theater experience and others came with little or none. Michelle wanted to show them all just how fun it could be and she also wanted to help them build skills in problem solving, creativity, teamwork and self-confidence. In addition, they also focused on theater skills – production, character development and stage presence. I can confidently say that Michelle accomplished her goals!
Michelle has been so impressed with our campers and the drama department at Camp Louise. She commented on the incredible collaboration with the staff in music, dance and drama: "Everyone is so committed to making it work for the kids! They are all just amazing!"
Michelle was actually trained as a director when she attended college at Tufts. She has been a middle school English teacher and department head for 21 years and she has always done school theater too. We are incredibly lucky that she read an article during the year about Camp Louise building Jill's Place. She contacted us and the rest is history.
We are incredibly lucky to have Michelle on staff and we look forward to more amazing productions in Jill's Place!
Alicia
[bq_color]
Today's Birthdays

Sydney – Bunk 32
[/bq_color]
Today's Menu
[table "" not found /]
Today's Weather

High: 92°F | Low: 73°F
We'll take the sun and no rain anyday!