Airy Blog
Director's Blog – August 6, 2018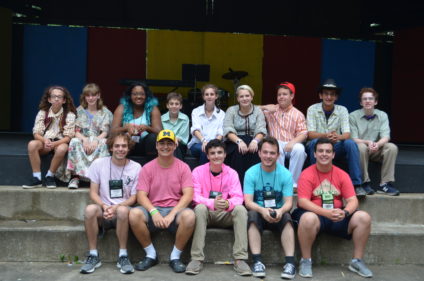 "Opening Number"
Tonight's Guest Blogger – Camp Airy Drama Department Head, Cody Riker
When Marty asked me to write today's blog post, I could not have been more excited! Tonight, we had our opening/closing night performance of "The Stinky Cheese Man and Other Fairly Stupid Tales." This was truly a fun experience for both camper and staff alike that attended the event. But before I tell you about tonight, I should let you know about the past few weeks. The past few weeks have been truly magical. This show was put together in a mere two weeks and we dealt with making sure it would happen rain or shine!
For those of you who don't know the show the story is as follows, our narrator Jack (from Jack and the Bean Stock fame) introduces himself to the audience and then decides to tell his versions of classic fairytales. Ultimately this leads to a large amount of silliness. The silliness of this production has truly been the most uplifting thing about this entire process. For this production as a Department Head I decided to have every single one of my staff members direct a scene of the show. I could not be prouder of what they have accomplished over the past few weeks.
The show itself proved to be a crowd favorite tonight and that was the most enjoyable aspect of the performance. Camp is truly a magical place, tonight we were able to witness bunkmates cheering on their friends who were in the show (we even got to witness a surprise performance by the CITs). Truth be told, I believe that Camp audiences are truly the best audiences because they are the most accepting of their fellow bunkmates. In no other place can you see an audience laugh, comment, or clap with such positivity for an hour. Camp is truly my favorite place to work as far as theatre is concerned and seeing the kids tonight participate in a slapstick comedy was truly icing on the cake.
To all of my staff and campers who were in this production, all I can say is Thank you! Thank you for everything you have done on this production! You have grown so much, and I could not be more proud. Have a fun off season and I can't wait to see you all on the Airy Stage again!
Until next Summer,
Cody
Today's Birthdays
Jordan – staff
Today's Menu
[table "" not found /]
Today's Airy Weather

High: 91°F | Low: 72°F
Sunny, warm and humid