Airy Blog
Director's Blog – August 7, 2017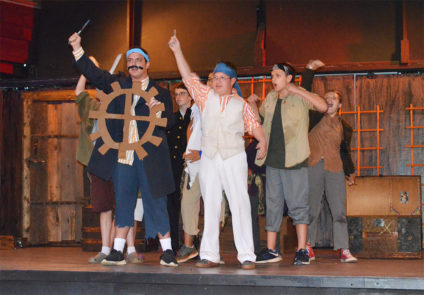 "To have faith is to have wings"
Campers and staff gathered at Airy's Cohen Theater tonight to watch the play "Peter and the Star Catcher." For those who may not know, a young orphan and his pals are shipped off from England to a distant island ruled by an evil king. They are unaware of the mysterious trunk in the captain's cabin, which contains a precious, otherworldly cargo. At sea, the boys are discovered by a girl named Molly, a Starcatcher-in-training who realizes that the trunk's precious cargo is "starstuff," a substance so powerful that it must never fall into the wrong hands. When the ship is taken over by pirates – led by the fearsome Black Stache, a villain determined to claim the trunk and its treasure for his own – the adventure begins.
SPOILER ALERT: The orphan boy comes into the name "Peter Pan," and Black Stache loses a hand in an action-packed scene. This foreshadows an all-time great villain, Captain Hook. Oh, and people fly! And we are introduced to Tinkerbell!
FROM THIS OBSERVER: The character Smee – right hand man to Black Stache – stole the show. He was funny!
Congrats to the cast and crew on a great show. To cap off the evening, we all gathered in the dining hall for Make Your Own Sundaes and a dance party with DJ Malps.
Six days left …
Marty
Today's Birthdays
Levi – staff
Jonah
Jacob
Today's Menu
[table "" not found /]
Today's Airy Weather

High: 73°F | Low: 64°F
Rainy.All.Day. But clear later so we could watch the show!