Louise Blog
Director's Blog – August 7, 2017
SOMEWHERE OVER THE RAINBOW…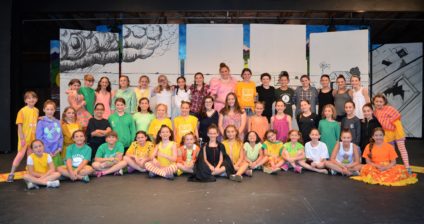 On the second day of camp, we had auditions for our big musical performance of the session. It is so hard to believe that in just two weeks, 47 campers (from Unit A through Trainees) and our drama staff put together an incredible production of The Wizard of Oz – complete with a wonderful set, adorable costumes, a fabulous orchestra, lively songs, great choreography, and of course the Camp Louise box step.
For some of our campers, it was their very first time on stage and for others, this is what they do each summer.
Melissa, one of the CAs (counselors assistants – rising 11th graders) who plays Glinda the Good Witch, is so excited to be in the play this year. Even though she does plays a lot at home, this is only her second Camp Louise performance. With her eyes on being a drama staff counselor in a couple of years, she was excited to have the opportunity to work on the play – especially with all of the munchkins.
Somewhere over the rainbow, skies are blue.
And the dreams that you dare to dream really do come true.
Melissa and I talked a lot about how the show mirrors the camp experience – especially with this year's camp theme of What's Your Story?
Here at camp, we each have to figure out our journey– just like Dorothy does in The Wizard of Oz. Dorothy is writing her own story and along the way, she makes friends and uses her resources – just like we do at camp.
It's not where you go. It's who you meet along the way.
Melissa explained how Dorothy develops as a character throughout the story. She is hesitant to go on this journey when she first arrives in Munchkin Land. She is encouraged by Glinda who is like the various members of our A-Team – Directors, Division Heads, Programming Staff, Department Heads, Unit Leaders, and Camper Support. Throughout the story, Glinda is like the silent leader in the background…just like A-Team who helps our campers have a successful summer. Dorothy is thinking about her throughout the show even if she is not right there on stage.
Dorothy meets Scarecrow who is like the first friend you make at camp. The Tin Man and Lion represent other friends who are welcomed into the group, and they all help Dorothy along her journey.
A heart is not judged by how much you love, but how much you are loved by others.
Melissa thinks that the Wicked Witch represents possible homemissing, doubt, or nervousness that some campers may feel. In addition, the munchkins are like the counselors – they welcome you and they are some of the first people you meet. Melissa thinks that "the munchkins are adorable – similar to how the counselors are cool."
At the end, each of the characters gains something they wanted by working together – a brain, a heart, courage and home. They each got something different out of their journey – as we each gain different things from our experiences each year at camp.
You've always had the power my dear, you just had to learn it by yourself.
What a perfect show for us to perform!
And always remember…
 There's no place like home.
 From our summer home in 21719,
Alicia
[bq_color]
Today's Birthdays – NONE

Happy UN-Birthday, Everyone!
Stand up, stand up, stand up and show us your face, your face.
Thank you, thank you, thank you for showing your face.  
Thank you!
[/bq_color]
Today's Menu
[table "" not found /]
Today's Weather

High: 69°F | Low: 62°F – Rain, rain, go away…..but still lots of camp fun and the rain had to stop because the show must go on!