Airy Blog
Director's Blog – August 7, 2018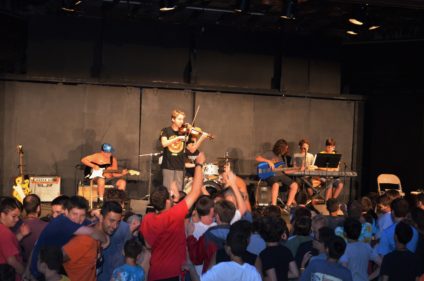 "We're In a Rock and Roll Band"
Camp would be a great subject for a reality show. Twelve campers and three counselors are brought together, learning to live as a cohesive team. They clean, they compete, they traverse the dreaded hill, and they take part in the greater community known as camp. Weather is always a factor, I'd watch that show.
Within that reality show could be another reality show. Campers from all age groups are given the chance to be part of a band. In just two short weeks, the band performs live in front of the whole camp. Or instead of a band, campers have two weeks to crate a video to appear in a film festival Too ambitious you think? Not here at Airy. Tonight at the Cohen Theater, campers and staff were treated to "A Musical Happening" and "Film Fest."
Music department head Ben and Multimedia department head Alexis (and their respective teams) deserve a boatload of credit – how such a high-quality double feature can come together in just two weeks is baffling. Throw in the rainy weather and how it disrupted their schedules … kudos to Ben, Alexis, and their staff, and the dedicated campers for a job well-done.
As we do almost every night, Airy campers and staff together sang the "Goodnight Song." There is always a part where I have a chance to say a few sentimental words to mark the occasion or event. I was in the midst of saying to the camp that it was hard to believe that tomorrow (Wednesday) would be our last full day of regular activities and Olympics would then commence. A camper called out "Lieutenants?" I busted out laughing, as did the unit leaders who were on stage with me leading the song.
If you are reading this and don't get why it's funny, don't fret. Just tune in to the next episode of our camp reality show.
Marty
Today's Birthdays
Oliver
Jacob and Levi – staff
Today's Menu
[table "" not found /]
Today's Airy Weather

High: 87°F | Low: 70°F
Sunny, then cloudy, then rainy, then lovely.