Louise Blog
Director's Blog – August 7, 2018
AERIAL ARTS – PART 2

You may have read about our amazing aerial arts instructor Christine in my blog on July 2nd – https://www.airylouise.org/newsfeed/directors-blog-july-2-2018-2/
I can't help but write another piece on what our campers are doing in this exciting, new activity.

Not only are they getting up into the slings and silks and performing tricks that I could never imagine….they are also learning about our Jewish values.
Christine has taken our Middah/Value of the Week program and really flown with it – incorporating the values into her teaching. When the campers are in aerial arts, they talk about kindness, courage, curiosity, patience, and respect. Middah Girl certainly moves up her ladder in aerial arts.
Christine shared the following with me:
"For example, a lot of kindness is involved in aerial arts. We encourage others and we have to always remember to be kind to ourselves. It is easy to get frustrated when things get too hard. We have to give ourselves a break and try it again another time."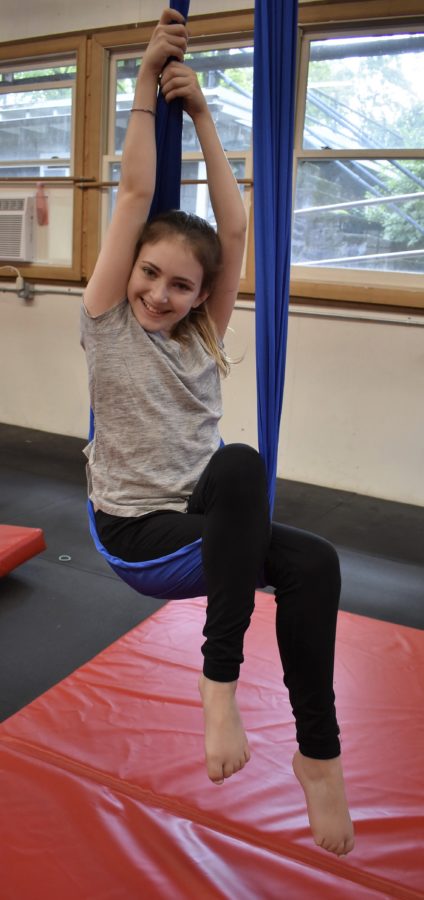 "We have to be patient when learning tricks. We have to be patient with our brains to learn new things."
"We build our curiosity – What happens if I go this way? What if I try it like this? Curiosity helps us experiment with things that may be familiar, but then bringing it into the air may be new."
"We have to have the courage to be off the ground."
Christine has been so impressed with how brave everyone has been – even those campers who have been scared at first to try it.
"We build self-respect in learning what our bodies can do. It creates a new sense of awe and connection to ourselves. We have to take care of ourselves."
"This values piece is such a natural connection for us."
And Christine leaves us with this: "Aerials are for everyone – no matter your body or what you find interesting, there is something for everyone!"
We are so grateful (this week's middah) to have Christine with us. She has certainly added so much to our community as she literally takes us to new heights!
Alicia
[bq_color]
Today's Birthdays

Happy UN-Birthday, Everyone!
[/bq_color]
Today's Menu
[table "" not found /]
Today's Weather

High: 89°F | Low: 74°F
Gorgeous day, made it into the Dining Hall before a very brief storm hit.  Stayed for a fun dance party during dinner and the storm is done!  Love it!