Louise Blog
Director's Blog – August 8, 2016
Willy Wonka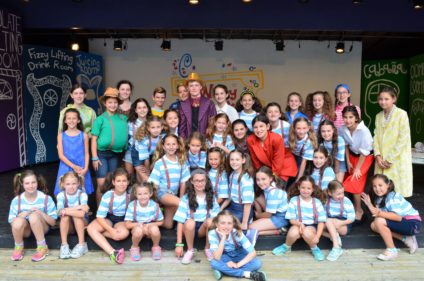 All the hard work the past two weeks has been well worth it. Tonight's performance of Willy Wonka Jr was simply scrumdiddlyumptious!
I spoke to Ellie, the director of the play, and she shared with me some of her thoughts about the show…
"Putting on a junior version of a musical in two weeks is no small feat. There is a lot of preplanning that goes into it…looking at camper schedules and logistics. There are many moving pieces to make it all work."
Ellie was quite pleased with the large turnout at auditions – Louise girls (from Units A through CAs) and Airy boys who wanted to be actors and other Louise girls who wanted to help with stage crew. It takes a team and what a great team they had for this show! Ellie was shocked how quickly they learned everything – the music, the choreography, their lines. She said they are all just "awesome, really happy kids and they have been a pleasure to work with!"
During their final run-through today, many of the actors wanted to share their own thoughts about the show with me. A group told me that they wanted to audition because it looked like it would be a lot of fun. Some of them do theater at home, some have done shows at camp and some are brand new to the stage. They all had fun with their characters – from Charlie and the other kids who found the Golden tickets to Willy Wonka himself to the Oompa Loompas.
One of the actors told me that she loves acting and she loves being part of the cast. "You get to work with the whole cast and put a show together from beginning to end."
This afternoon, they were all very excited and a little nervous for the big show tonight. After seeing some run-throughs…I knew it was going to be amazing and I was right!
Hope you had a golden ticket kind of day!
Alicia
[bq_color]
Today's Birthdays

Another UN-Birthday Day…Happy UN-Birthday, Everyone!
[/bq_color]
Today's Menu
[table "" not found /]
Today's Weather

High: 87°F | Low: 64°F – A beautiful camp day!