Airy Blog
Director's Blog – August 8, 2017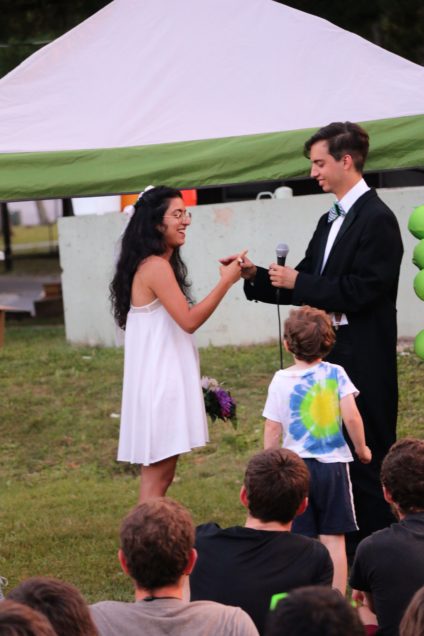 "Your Love is Better Than Ice Cream"
Tonight's Guest Blogger – Josh Lerner, Culin-Airy Department Head
Dearest Readers,
As I write to you, my fingers tremble with excitement and the joyful tears of a million bubbies. Tonight was a night to remember and among the most special this mountain has seen in ages. First, I should fill you in. Just this past Saturday, we had the great honor of witnessing our beloved staff member, Jonathan "J-Rev" Revenson propose to yet another adored staff member, Eden Bar. The two decided to get married today, in honor of Tu B'Av, the Jewish celebration of love.
Our evening began with a positively scrumptious spread, catered by the one and only Camp Airy Dining Hall (available for events during the offseason — but you gotta know someone). The menu boasted chicken and waffles, the perfect meal for our cool, mountain festival of love. Following dinner we marched over to the uphill ball field for our Tu B'Av parade. One by one, floats rolled down the hill on a one way trip straight for our hearts. At the end of the parade, we partied the evening away with a moon bounce, karaoke, and an ample amount of grape related activities (Tu B'Av also marks the beginning of the Israeli grape harvest!).
And then — the moment we all waited for. As we all gathered on the field, breathlessly awaiting the matrimonial event of the year, J-Rev and Eden proceeded toward the ceremonial chuppah to exchange vows. There were tears, there were triumphs, and most importantly, there were grapes. Campers and staff were verhklempt far and wide, leaving only one last thing to do…
As if the evening couldn't get any better, we gathered together in the middle of the field with bags of grape colored powder and concluded our evening in a cloud of pure celebration as we threw the powder and rejoiced to the love in the air.
But all this celebration sure makes you hungry.
So in true Jewish event fashion, we officiated the evening with plate after plate of wedding cake — we couldn't possibly have anyone go hungry.
So, though my fingers may no longer tremble, my heart flutters with the grape perfumed scent of love. This is one for the books, my friends.
Mazel Tov to J-Rev and Eden, and a happy Tu B'Av to all!
Thanks Josh!
Marty
Today's Birthdays
none
Today's Menu
[table "" not found /]
Today's Airy Weather

High: 73°F | Low: 56°F
A beautiful day!