Louise Blog
Director's Blog – August 8, 2017
ROOKIE CAMP 2017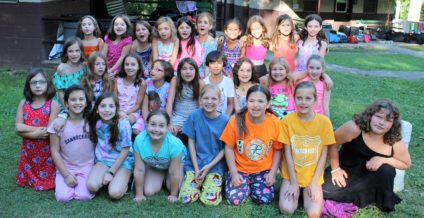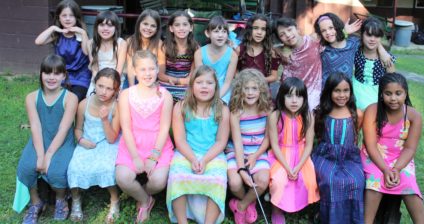 Rookie – Week 1                                                                                    Rookie – Week 2
Thinking about our Homegrown song we sing every year, it starts with that very first year of camp and for about 50 of our campers that beginning is Rookie Camp.
In bunk 18, I was only a tot and I couldn't understand why
My parents had decided to send me to camp,
And all I could do was to cry.
But after a day I was happy to say
That my counselors were pretty and funny.
Didn't care it if rained, my life had changed,
And every day was sunny!
 
Oh, they call me a homegrown.
I grew up at Camp Louise and let it be known.
Summer's my time and soon it will be fall
In just no time at all!
Each summer, we offer two separate Rookie weeks to give first time campers a taste of Camp Louise.
Our truly amazing Rookie Camp Director Karen shared with me her hopes for these bright-eyed young campers. She wants them to experience in just one week a feeling that will entice them to want to spend a longer time at camp. Along with our programming staff, Karen structures the week so that the Rookies begin to learn the culture and the people of Camp Louise.
Throughout their time at camp, the campers have an opportunity to participate in as many of the activities we offer here at Camp Louise as they can in just one week. They can conquer the Adventure Park, design a tie-dye shirt, learn new games, work on the farm, make something in cookery, learn folkdances, participate in martial arts, experience our greenhouse, go down our waterslides – just to name a few of the many, many, many activities we squeeze into a week. For a lot of our Rookies, they begin to experience a level of independence during their first time away from home.
It's hard to imagine but in just a couple of days, best friends are made and by the end of the week, the campers are sad to leave. On the last day of camp seeing the Rookies lead our Goodnight Song is just precious. At the end of the song, they all shout Lilah Tov, Camp Louise! The entire camp then recites back to them – Lilah Tov, Rookies! The smiles on their faces are simply priceless!
Our camp theme this year is What's Your Story?  I introduced this theme in a previous blog post on June 25, 2017.  The Rookies are the very beginning.  They have just experienced the first part of their story with the hopes of many, many more chapters to come.
Chapter 2 coming soon….next year, back in 2018!
Alicia
[bq_color]
Today's Birthdays – NONE

Another Happy UN-Birthday Day!
[/bq_color]
Today's Menu
[table "" not found /]
Today's Weather

High: 81°F | Low: 58°F – Sweatshirt morning followed by a gorgeous day – just how we like 'em!