Airy Blog
Director's Blog – August 9, 2016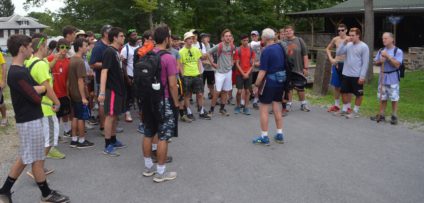 Today, our Airy CITs took part in the traditional "History Hike." One of Airy's longtime hike leaders and historians, Marv, led staff and CITs on a hike around Airy and the surrounding trails. The walk and talk brought to life many things that may have previously seemed to be unremarkable.
For more than 90 summers, Camp Airy history has been written and rewritten. Did you know that there used to be camper bunks downhill? Did you know that you can see part of Airy's old swimming pool in the woods behind the current pool? Not many people know that that our "downhill social hall" used be the camp gym and the camp theater.
I chuckle when I hear a camper or staff member say in a conversation about camp, "It's always been that way." My personal camp history dates back to 1984. In 1984, Bunk 30 was a Unit A bunk. Today, STs live there. And in 1984, there was no ST unit at Airy. Those rising 10th graders were Unit F campers. In the mid-1980s, counselors also worked as waiters in the dining hall. The porch off the side of the dining hall was home to one of the best views in camp. That porch went away when the dining hall became air conditioned. When I was a camper, there were no water fountains on the hill, and the basketball court on Bunk Row was the furthest thing from being a flat surface. We played softball back in the day.
On the other hand, Olympics is still Green vs. White. Bim Bam is still a favorite Shabbat Song. Campers still love dressing in wacky costumes for gameshows at the Theater. At the pool, campers still put on shoes and socks in the bleachers. Ziplines, go-karts, multimedia and more are regular aspects of what campers do today at Airy. I couldn't have imagined these things as a camper. Regardless of the activity on the bunk schedule, one thing that remains as true today as it did "back then" – friendships and memories are being made.
Marty
Today's Birthdays
Marcus – staff
Today's Menu
[table "" not found /]
Today's Weather

High: 79°F | Low: 72°F
Overcast